Procedure & Cost for Certificate Apostille in India
Your HR or employer may have told you about apostille while you're looking for different kinds of visas.
It could be for a degree, a job, or a visa to live in the Abroad.
For many different types of procedures and visas, the certificate apostille attestation is required.
It is a way to prove that your documents are genuine and that they can be used outside of India.
It is provided to the documents and certificates that are to be in abroad.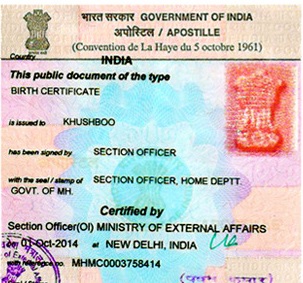 Curious to know what is an apostille?
Apostille is a sticker that is placed on the reverse of documents.
This sticker includes a person's name and Document Details so that other nations can check it online.
Once it is completed, you won't need to worry about immigration or visa issues.
MEA is authorised to do apostille in India.
What exactly is apostille attestation?
Attestation means that something, like a notary stamp, is put on your certificate.
Same way, once it is done on your certificate, people used to call it apostille attestation, nothing deeper.
Most European countries are part of this group, so it works in both Europe and the West.
What Is the Need for Apostille?
It is necessary if you are going overseas for work, a family visa, or higher education.
It's also crucial for export businesses to be registered abroad or to have agreements with other countries for business purposes.
Here are the details for using an apostille for different things.
1. Purpose of Degree certificate Apostille:
These Academic documents help in securing an employment visa and student visa
This is very important to take admission in college and also for work purposes
2. Birth certificate Apostille:
This certificate must be apostilled because it is needed in school admissions, college admissions and for family visa.
3. Benefits of Marriage certificate Apostille:
This is beneficial for couples who are trying to shift permanently.
This certificate will help in having a resident visa, spouse visa, family visa and dependent visa.
4. Police Clearance certificate:
A Police Clearance Certificate is very important to show the past criminal history of an individual
If an individual has not done any illegal activities then their Police Clearance Certificate will be clean
5. Export document certificate:
This is a business-related document
This document should be done for business expansion, to get a certificate of incorporation and other business-related work to be done in a country that is a part of the Hague convention.
It's very important while company exports things to overseas
6. Single status certificate:
Single Status Certificate is to prove that one is not married to anyone.
Additionally, it is necessary if you marry an international citizen.
7. Affidavit:
Where certificates have spelling errors, the affidavit may need to be apostille.
Which Country Needs an Apostille of Documents?
Documents and certificates will not have to go from the process unless they are to be used in a foreign land.
Certificate Apostille are not accepted by every country either; this type of verification is accepted by the countries that are part of the Hague Convention.
Apostille of Documents and Certificates are needed in over ninety countries to use the documents.
Since it is only accessed by the countries that are part of the Hague Convention, this process will be needed only if you're visiting one of these countries.
Here is the list of those countries.
Procedure of Certificate Apostille Services
The process of Legalization in India varies. It is different for different kinds of documents.
Educational Documents
Verification from University/ authority from where they were issued
State verification by Human Development Department
Apostille Sticker by MEA ( Ministry of External Affairs )
Personal Documents
Verification from the local notary
State verification by Home Department or Sub Divisional Magistrate
Apostille Sticker by the MEA ( Ministry of External Affairs )
Commercial Documents
Verification from the Chamber of Commerce
Apostille Striker by the MEA ( Ministry of External Affairs )
What Does An Apostille Sticker Look Like?
This is a sticker that is given by the department of government. The sticker will look like this:
This sticker is generated electronically with the help of a computer
The approximate length of this sticker is 9 cm
The sticker will have a unique code
This code will help in proving the authority and legitimacy of the information that is mentioned in the document
Apostille stickers are registered, numbered, dated, and impressed by the government's seal
What if the Documents are laminated?
Lamination is a process selected by individuals to keep their original documents safe.
The sticker cannot be granted on a laminated document but there is no need to rip off the lamination on your own as that can cause severe damage to the document.
The alternative is, just send us the document in the way they are and our professionals will remove the lamination without causing any harm to your documents.
Documents that is required for Apostille
Only the original certificate and a copy of your passport must be presented for apostille.
If your passport has expired or you don't have a copy, you also can provide other Indian documents like an addhar card.
Time Taken To Complete the Process
The time taken for process will depend on the type of documents. This is because every document will go from a different process of pre-verification that is done at the local, state, and national levels.
In India, the MEA ( Ministry Of External Affairs ) is the department that is in charge of providing Attestation stickers to the documents that are legit and to be used in other countries
You will be delighted to read this we will finish this within 7 working days
What Is the Cost of Apostille?
The cost of services will depend on the kind of document, the number of documents and the special needs of the documents to get the verification.
It has to be kept in mind that every government body is located in different parts of the State and country, thus it can get very overwhelming to travel to different offices and wait for hours to get the verification done before applying for the Services.
Apostille fees range from Rs 4100 to 5100 per document.
How to Start the Process?
You must speak with our executive to begin the attestation process with Attestation Guide. Any inquiries will receive individual attention, and our executive will also provide more information and handle all formalities.
We will pick up the documents from your home for apostille once all the required documents have been completed, and you will be given a receipt.
As soon as the documents are delivered to us, the procedure will begin.
You can follow the progress of your documents online, and we'll keep you informed on a regular basis.
You can track the docs online once they've been sent out. We provide free pick-up and delivery services for any documents.
Our offices are located in various cities like Mumbai, Pune, Bangalore, Chennai, Hyderabad, Kolkata and Thane.
In other parts of India we will collect documents via blue dart Courier.
Why Choose Attestation Guide?
Free pick up and drop off services: For our clients who believe in us and deserve free pick up and drop off service
Value of Brand: Attestation Guide and the professional staff working are all experienced. Attestation Guide has been providing these services for the past 8 years.
High-end customer service: We aim for a service that is of high quality and do our best to provide our clients with the same
Affordable cost: With a transparent process, our clients pay minimal costs
Tracking system: The tracking system is developed so that clients can get live updates about the progress of their documents
24*7 customer service: We provide customer service at any time of the day.
---
Customers Review
Remember this service for lifetime. I was getting this chance and had to immediately give the attestation. They did not delay and saw that I get my chance. Anytime I am back, I will give them my good wishes through more clients.
They are very helpful and I am free to ask them any question any time. My documentation process was very smooth because of them. They are even helping me in Hungary after I reached here.
Attestation Guide is good quality, good communication, and they are very knowledgeable person and provide us full information and full help to us.
---
Let our Legal Expert Contact you
Inquire here