Certificate Attestation From Bahrain Embassy
Bahrain is a country that is preferred by individuals for business, study, and professional purposes. Migration to Bahrain is generally because of the country's educational infrastructure and also because of several professional opportunities being offered. People consider relocating to Bahrain because of their higher need for better education and life. To visit Bahrain for any reason, individuals will need to get their documents attested from the defined departments. Bahrain embassy attestation is considered very important because in case documents and certificates will not get the embassy verification then they will not be treated as eligible to be used inside Bahrain.
Embassy Attestation has to be done in a very systematic manner that will include all kinds of verification needed and done by the authorized government departments. Various embassy attestation services are ready to help you in doing Bahrain Embassy attestation. The Embassy Attestation is very important for individuals who want to get a visa and that is why all the documents should be perfectly attested or the application will not be approved.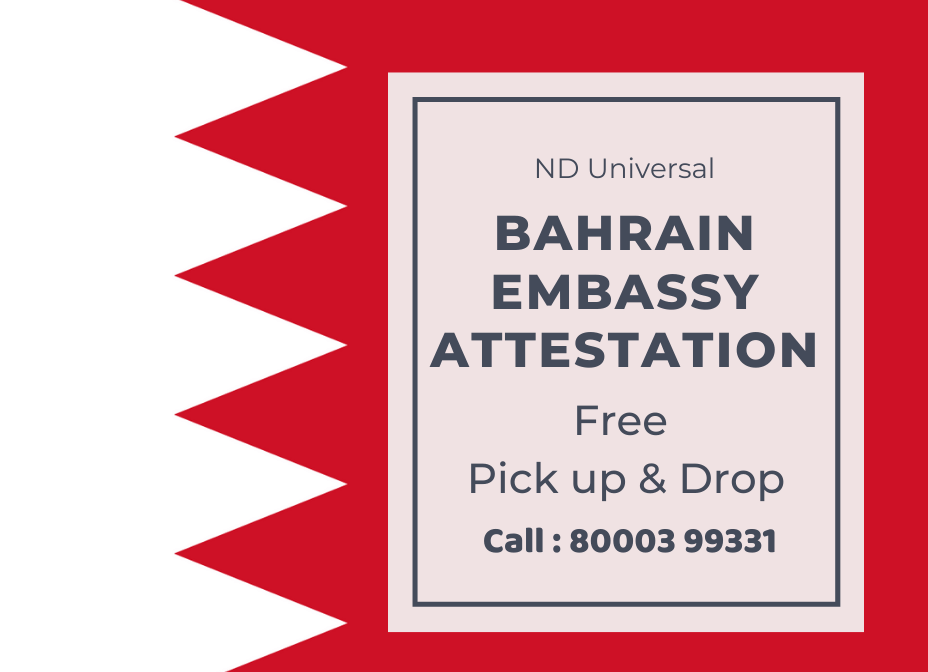 What Is The Bahrain Embassy Attestation?
The Bahrain Embassy is a type of process that should be followed mandatorily by the certificates and documents that are to be used inside Bahrain for any purpose. The process of embassy attestation is needed to validate the legitimacy of the information mentioned in the documents and certificates. Bahrain embassy attestation will include many types of documents and authorized bodies that are responsible for first-hand verification of them. If you are not a citizen of Bahrain and are planning to visit the beautiful country then you will need to get all the required documents and certificates through the process of Bahrain Embassy Attestation without any questions or doubts.
Bahrain embassy Attesting is an act that is done for validating the legitimate use of documents in the UAE. Bahrain embassy attestation is also mandatory for certificates and documents that are to be submitted for the applications concerning visa requests. Documents and certificates without verification by the Bahrain Embassy Attestation will not get approved by the officials and thus resulting in declination of visa application.
Bahrain Embassy Attestation will give people legal rights to use the documents and certificates in Bahrain that will result in security and comfort in Bahrain. The best embassy attestation services are provided by those service providers who are approved by Government and Attestation Guide is government-approved Attestation service providers.
---
When Is The Need For Embassy Attestation?
Embassy attestation is required when certificates and documents are to be used in a country other than the native one. This is mostly when documents and certificates are to be used for visa applications. Embassy Attestation allows individuals to use the documents and certificates in another country with all the legal rights benefiting them. To prove the legitimacy of the documents, it is very important to get all the documents and certificates attested.
1. Degree Certificate
This comes under the professional or academic document
A degree certificate helps in proving that an individual has completed a particular course
A degree certificate is very crucial to have a study or work visa
The attested degree certificate is mandatory for getting admission and also for getting some jobs
Students and individuals who want to get their higher education from abroad or want to have a better professional life in another country will have to get their certificate attested as that will help in taking admission in college and universities.
2. Birth Certificate
A birth certificate is a personal document
A birth certificate contains information such as date, day, time, place of birth including the origin
A birth certificate is a document needed for proving the nationality
This certificate should be attested by Bahrain Embassy as it will help individuals in proving their nationality and also their official name in another country
A birth certificate is also important for migration purposes and also for name-changing purposes.
3. Marriage Certificate
A Marriage certificate is another personal document owned by married individuals
This certificate is proof that states the marital relationship between two individuals
A marriage Certificate helps in clearing the current relationship status
An embassy attested marriage certificate will help in proving the validity of marriage in Bahrainis well
Embassy Attested Marriage Certificate will help in taking resident visa, spouse visa, family visa, and dependent visa as well.
4. Police Clearance Certificate
A PCC will help in stating the clear criminal record an individual have
The PCC states the criminal record one would be having and also about the activities that were not lawfully done
PCC helps vividly in proving the innocence of individuals when they apply for a visa
Attestation of this document from the embassy will provide a clean chit to the individuals and will increase the chance of getting the visa application accepted
A PCC must be attested because if you are someone who has no previous criminal records then you will get a visa faster.
5. Export Documents
The business person will have to attest to this document as it is commercially related
Individuals who are wanting to establish a business or wants to expand the business in abroad will have to make the documents go from attestation
Attestation of Export Documents will help a business person in getting the legal exportation rights
Bahrain Embassy Attestation Services in India is provided by many firms that make it more difficult for clients to choose from. it is very important to choose the right attestation service provider because this is a very sensitive process that will have the involvement of original and important documents of individuals. It is better to hire Attestation Guide that is not only a government authorized attestation service provider but also a firm that will take the right care of your documents and certificates by the double-checking process that is used.
The procedure of attestation is very time-consuming and hence will have to be more engaged in these things than others and it will cost you more money as well if done individually, whereas, Attestation Guide will give you a way to relieve all the stress by giving high-quality embassy attestation service. The need for attestation will come when you will decide to visit Bahrain for any reason and then contact Attestation Guide for more details.
---
Document Required For Embassy Attestation
Apart from the original documents, many secondary documents are also needed. Documents and certificates needed for embassy attestation are:
Original Documents to be attested by the embassy:
Degree Certificate
Birth Certificate
Export Documents
Marriage certificate
Police clearance certificate
Death certificate
Other needed supporting documents
Photocopy of passport
Passport-sized photograph
Passport application receipt
Photocopy of Aadhar card
It has to be kept in mind that according to the need for documents, the secondary documents might be different. All the documents have to be submitted to complete the verification and authentication process that is followed before the step of embassy attestation.
---
Time Is Taken To Complete The Process
If you are planning to do the process of Embassy Attestation singularly then the time frame can range from weeks to months. This long period is required because in some cases documents are being held by several departments to make them eligible for further verifications. Not only this but many uncalled reasons are there due to which the process keeps on getting delayed. If you do not want to experience the elongated process then you should hire Attestation Guide as your Embassy Attestation service provider.
Attestation Guide will guarantee that your documents and certificates will get their attested being done in just five to seven working days. We are also government-authorized attestation service providers without any backlogs. The systematic process will result in the successful attestation of documents. The process will not cause you any trouble and you will be stress-free after hiring Attestation Guide.
---
What Is The Cost Of Attestation?
In case you have decided to do the attestation process by yourself then it will surely cost you more than anticipated. This happens mainly because every document's need is different and will have to go through different departmental verification for the same. To complete the process, you will need to visit so many departments that are located in every corner of the country. The extra travel cost will be higher, but you can easily neglect these overworking sessions just by hiring Attestation Guide where you will get your documents and certificates of all the kinds attested in just a week at an affordable price.
There will be no need for you to be physically present at departments or anywhere else for tracking the process of documents because you will be able to track the progress of your documents from your home itself. We also offer free pick up and drop off services of documents for our clients. Hire Attestation Guide and enjoy high-quality customer service at affordable prices.
---
Process Of Embassy Attestation
Here is the process of Embassy Attestation:
Step 1 - Regional Level Verification
The documents and certificates will get verified by the local authority like notary or university ( in case of academic documents ). This local authority will be the one form where the documents were originally issued.
Step 2 - State Level Verification
At the State level, documents and certificates will go from authentication from different departments depending on their type:
Personal Documents to be verified by Home Department or by Sub Divisional Magistrate
Professional and academic documents to be verified by HRD ( Human Resource Development ) Department
Commercial Documents will get verified from the Chamber of Commerce and not from a notary or any other departments
Step 3 - Central Level Verification
Documents and certificates will be eligible for authentication by MEA ( Ministry of External Affairs ) which is a central level department engaging in all the affairs like attestation of documents for international use
Step 4 - Embassy Attestation
Embassy Attestation will be done by the concerned country's embassy.
---
How To Start The Process?
To start the Embassy Attestation Process you can contact Attestation Guide's executive. Our Executive will attend you personally and will explain to you the process and other related information Once all the formal information is provided and general formalities are done, we will pick up the documents and certificates from your doorstep. After the documents will reach us, we will start the process of attestation and will give you all the updates of the document online and via other sources as well.
After the process is done, all the documents with proper embassy attestation will be sent to you with the help of Blue Dart Dispatch. Once the documents are dispatched for returning to you, you will be able to track the returning process as well. Pick-up and drop-off services will be free of cost for our clients.
---
Why Choose Attestation Guide?
Attestation Guide not only understands the need for attested documents but also considers the safety of your documents. If you will hire Attestation Guide, you need not worry about the submitted documents and certificates because our professionals will make sure that you receive your fully attested documents safely.
A very transparent process is followed by us and no extra charges will be taken. Above all, the process will be fast and you will not have to pay any extra money for that. At AAttestation Guide, we aim to give you top-notch quality customer service and every doubt of yours will be solved at any time of the day.
Our Highlights
Best embassy attestation service in India
Experience of more than eight years
High-quality customer care
Fast service
Customer Care line is open 24*7
Transparent work
Affordable Cost
Less Time Consuming
Safe process
Pree Pick up and drop off services
---
Frequently Asked Questions
Which countries need attestation of documents?

Attestation of documents called Embassy Attestation is needed for the countries that are not a part of the Hague Convention. Around ninety countries are included in The Hague Convention and other than these ninety countries, all of them will accept attestation without any issues. In countries where attestation is accepted, all the documents and certificates are to be attested from all the right authorities and by the embassy as well. This is a required process because without this one being done, the documents and certificates will not have legal rights to be used in the country.

Attestation of documents and certificates will give individuals the right to use them for their benefits in another country. Bahrainis is a country that is not a part of the Hague Convention and that is why BahrainregardingEmbassy Attestation is a must to prove the authority of the documents and also for acquiring different kinds of visas as well.

Who can attest to my documents?

Bahrain Embassy Attestation Service Providers are available all over the market and will be able to help you in this process. The issue arrives when the service provider is not someone who is inclined to do the process in the right manner and if the manner is correct then not fast enough. If you decide to do the process individually then the process will take weeks to months and that is why taking help from a trustworthy and government-authorized service provider is recommended.

Attestation Guide is an attestation service provider who is also government authorized and we will get your document through the Bahrain Embassy Attestation safe. Attestation Guide will also offer affordable services.

What if the documents are laminated?

Document lamination is something we do for safety purposes but Embassy Attestation can not be done on laminated documents and certificates, that is why it is important to remove the lamination. But do not touch the lamination or try to rip it off because it can result in damage to the document. Instead, submit the documents to us and our professionals will remove the lamination in a proper manner that will not affect the documents at all.
---
Customers Review
Remember this service for lifetime. I was getting this chance and had to immediately give the attestation. They did not delay and saw that I get my chance. Anytime I am back, I will give them my good wishes through more clients.
They are very helpful and I am free to ask them any question any time. My documentation process was very smooth because of them. They are even helping me in Hungary after I reached here.
The attestation, verification and apostille were new words for me. They did all that I wanted. I liked their approach, sincerity and serious work. I will always be obliged that they helped me. This was done in a time of 7 days. Wonderful and good work
---
Let our Legal Expert Contact you
Inquire here