Process, Time & Fee of Document Attestation in India
Traveling abroad is something that is now included in the day-to-day life of many individuals. Many business persons and office individuals have to travel to different countries to get their work done.
Many students travel abroad to complete their higher studies and many also find it convenient to stay abroad to grow professionally. To travel abroad and stay there, visitors need to have a visa and should also have all the certificates that contain legitimate information about them. All the certificates have to be attested before filing a visa request.
Read this blog to find out about the different embassy attestation services in India.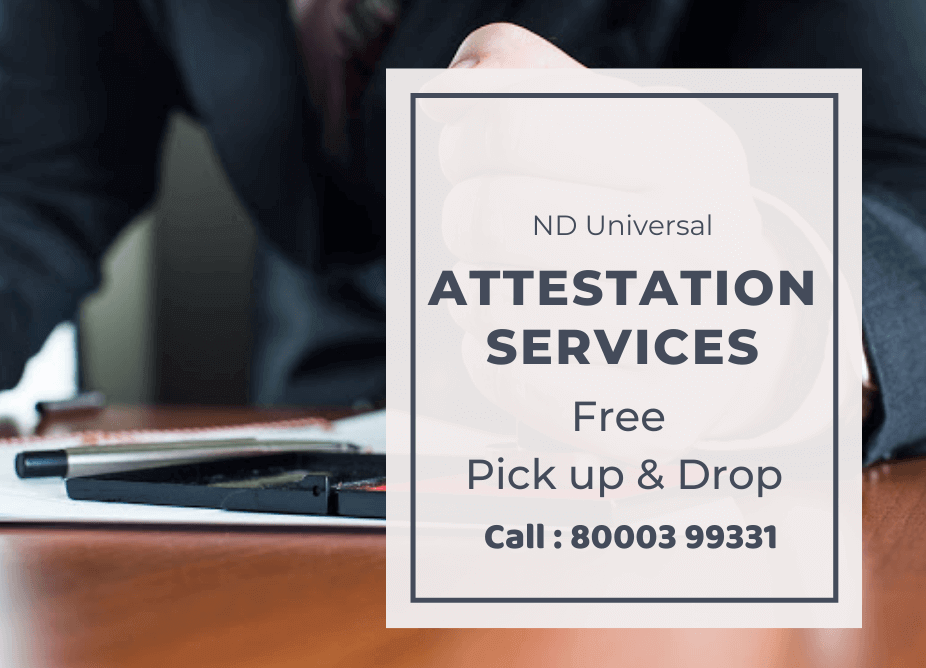 What Is Certificate Attestation?
It is a process that involves various levels of verification that takes place to assure the legitimacy of the certificate.
In Certificate Attestation a document goes from verification that are done by multiple authorized bodies.
These authorized bodies are government-operated and have the right to perform the verification.
It is a process that has to be done mandatorily because documents are not legally approved to be used until they get the attestation done.
The attestation of the certificate will depend on the particular certificate it belongs to. The process will also depend on the purpose of the certificate.
It is an act that is used for legalizing the certificates by departments.
This act helps in stating the genuineness of the certificate and the information mentioned in it.
Every certificate will need to go from the process of Certificate Attestation in India.
Why is Document Attestation Required?
It is considered to be a very significant process because certificates will not carry validity to be used legally in a foreign country if they will not be properly attested by the government authorities of the country from which the certificate was issued initially.
The process of Document Attestation will also involve Embassy attestation because that is important to get the final verification.
it will include certificates and documents that will come under personal, academic or professional, and commercial categories.
1. Degree Certificate Attestation
A degree Certificate when attested will help significantly in getting admission in colleges and universities it will also help in gaining a student visa and work visa that is very important for individuals whose sole purpose is to get employed in the country.
Individuals who are interested in getting an education from foreign countries or want to continue their career in another country because of professional growth will have to get their degree certificate attested as this is the only way through which this certificate can be used to gain the advantage in job interviews and college admission.
2. Birth Certificate Attestation
A personal document that is very important to get attested to. Birth Certificates have to be mandatory attested by all the authorized bodies. This is very important as birth certificates help in proving the origin and nationality of an individual. A birth certificate is also important in taking admission to schools and colleges that are based in another country.
A birth certificate is also important for individuals who want to get permanent citizenship and thus also important for migration purposes. Attestation of Birth Certificate helps in getting a visa.
3. Marriage Certificate Attestation
A marriage Certificate should get you arrested because this will help in getting a family visa, dependent visa, spouse visa and will also help in getting permanent residency in a country.
Without the certificate attestation of certificates, an individual will not be able to enter the premises of the country.
Different Types of Attestation
Methods that are used to verify or attest a certificate will depend on the type of certificate. Various kinds of departments are involved in the process of certificate attestation.
Each department is held responsible for attestation of a certain kind of document and cannot verify any other kind of document in the process of verification.
The certificate must be verified from the designated departments only.
Non-educational/Personal certificate:
Certificates that are personal and contain personal information of an individual such as date of birth, time and date of marriage, native country, etc include certificates like birth certificate, marriage certificate, etc.
Personal certificates are attested majorly to get permanent residency.
Steps:
Regional Level Verification from the Local Notary
Authentication from the State Home Department or SDM ( Sub Divisional Magistrate)
Legitimacy verification from the MEA ( Ministry of External Affairs )
Embassy Attestation from the concerned Embassy
Professional/Educational Certificates:
Certificates that are related to academics and job experience come under this category. Certificates such as Degree Certificate, Diploma Certificate, Work Experience Certificate, etc are included in this kind.
These certificates are used for getting study and work visas and are useful for individuals who want to pursue their education and career in another nation.
Steps:
Regional Level Verification from the university or from where the document was issued
State-level verification from the Human Resource Development ( HRD ) Department
Legitimacy Verification from the MEA ( Ministry of External Affairs )
Embassy Attestation from the Concerned country's embassy
Commercial Documents
A business person who wants to open or expand business overseas will have to have their documents attested from the authorized bodies.
These certificates will include export certificates, power of attorney, etc.
Verified by the Chamber of Commerce, these documents are important for expanding, establishing, and running a business overseas.
Steps:
Verification from Chamber of Commerce
Legitimacy from the MEA ( Ministry of External Affairs )
Attestation from the concerned Embassy
Brief Guide about Attestation from Various Department
Many departments are involved in the process of attestation. The Home Department, Human Resource Department ( HRD ), MEA ( Ministry of External Affairs ), SDM ( Sub Divisional Magistrate ), and Chamber of Commerce is involved in the process of certificate attestation. This department's verification is very important for the certificates. The process involves:
Step 1: Authentication from the Local Notary
Step one of attestation involves the verification from the local notary or from the university from where the document was initially issued. This is the first and important step of the certification attestation because, without this, certificates will not get eligibility to get verified from the other departments.
Step 2: Verification from State-level Departments
Verification of certificates will be done by the state departments like the Home Department, HRD (Human Resource Development) Department, Commercial documents, and the SDM (State Home Department), SDM runs separately from the state. This verification will depend on the type of documents.
Step 3: Legitimization from the MEA (Ministry of External Affairs)
All the certificates then will be verified by the central government department, the MEA (Ministry of External Affairs) that deals with affairs related to foreign lands. The MEA will provide a stamp or sign that will prove the legitimacy and authority of the certificates. This will happen after certificates will be verified by the local and state-level departments.
Step 4: Embassy Attestation
When the certificates will get signed by the MEA, they will be passed for Embassy Attestation. This level of attestation will provide an individual with the right to use the document legally on foreign premises. This attention will also help in getting a visa.
Documents Required for Certificate Attestation
Various Kinds of Documents are required for Attestation apart from the main certificate.
Original Certificate
Supporting documents:

Passport photocopy
Passport application Receipt
Aadhar Card, etc
Individuals will have to keep in mind that original certificates will be needed for the process of attestation. The process of attestation will not be done in photocopies and thus only original certificates along with supporting documents will have to be submitted to the Attestation Guide to get the procedure done.
How Long Does it Take?
Since the process of certificate attestation involves so many departments and alternatives, the time taken for the process can vary from days to months.
This scenario can be ignored by hiring Attestation Guide. Attestation Guide will help individuals in getting the procedure done within 5 to 7 working days without any physical presence in the procedure.
What is the Cost?
The cost of attestation will depend on the need for the certificate. The cost will vary from department to department and extra traveling costs will have to be added as you will have to travel from one place to another.
The matter can be costly due to travel costs but can be decreased by hiring Attestation Guide who will not charge any additional charges. The high-quality services will be provided at affordable charges and clients will not even have to worry about the certificate safety and Attestation Guide ensures that nothing will happen to the certificates.
How to Start the Process?
To start the process, Individuals will have to contact our executive. Our executive will do all the formalities and will also explain to you about the process that will be involved in the procedure including the cost. Once the formalities are done, we will pick up the certificates from your doorstep and you will be handed a receipt for the same.
Why Choose Attestation Guide?
Attestation Guide understands the process and the complications thus will provide the best ways to neglect all the stress that can come to you. The process will be explained in a very simple manner.
Our Highlights
More than 8 years of experience
Top-quality customer care service
Quick and efficient services
Customer care line operating 24*7
Affordable price range
Highly transparent attestation process
Assurance of safety of documents
Free Pick up and Drop off services
The customer care helpline is open 24*7 and you can solve all your doubts and queries whenever you want
---
Customers Review
They are very helpful and I am free to ask them any question any time. My documentation process was very smooth because of them. They are even helping me in Hungary after I reached here.
Attestation Guide is good quality, good communication, and they are very knowledgeable person and provide us full information and full help to us.
Remember this service for lifetime. I was getting this chance and had to immediately give the attestation. They did not delay and saw that I get my chance. Anytime I am back, I will give them my good wishes through more clients.
---
Let our Legal Expert Contact you
Inquire here