Apostille Services in Hyderabad
There are many people who are interested in job opportunities in various foreign lands. But, getting a visa is not very easy for those natives.
We offer the fastest apostille services in Hyderabad for all types of Telangana issued documents. Document apostille in India is required while travelling to European nations for education, work, or family visas.
What Is An Apostille?
An apostille is a special kind of sticker that is granted by the Ministry of External Affairs also known as MEA. The apostille is stamped on the backside of a document and confirms that the document is clear and genuine.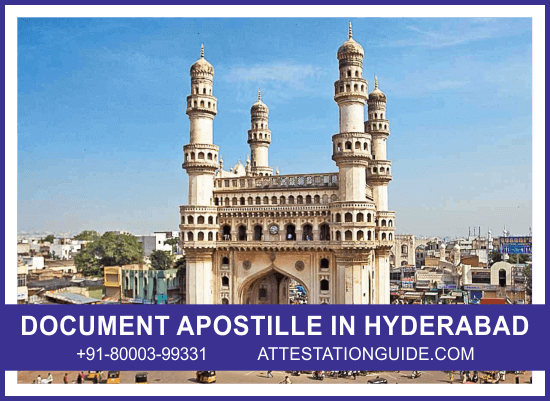 Why and When Document/ Certificate Apostille is Required?
Until now it might have seemed that attaining an apostille is an easy and light task. However, it is not.
You also need to get an apostille of documents and certificates when you are visiting another nation for employment, admission in educational institutions, business purposes, etc.
Below is a breakdown of when and why the following documents are needed:
1. Degree certificate
When you apply for a visa to travel to another country, this is one of the documents that must be apostille-ed.
In order to apply for a student or work visa, a degree certificate is essentially required.
2. Birth certificate
When you apply for university admission or seek employment, you will need this document to be apostilled.
3. Marriage certificate
If you're seeking for a dependant visa, spouse visa, green card, or residence visa, this document essentially needs to be apostille.
4. Police Clearance certificate
A Police Clearance Certificate, or PCC, is a document that shows you don't have any kind of criminal record.
If you want to get a visa, your PCC must have an apostille. This is because Nation likes to look at a person's criminal record before hiring them.
Document Required for Apostille
We needed the original certificate, for which you need an apostille, and we needed a copy of your passport as proof.
If you don't have a copy of your passport, you can submit other documents, such as an Aadhar card or a voting card.
Note: No proof of identity is needed for a child born less than six months ago.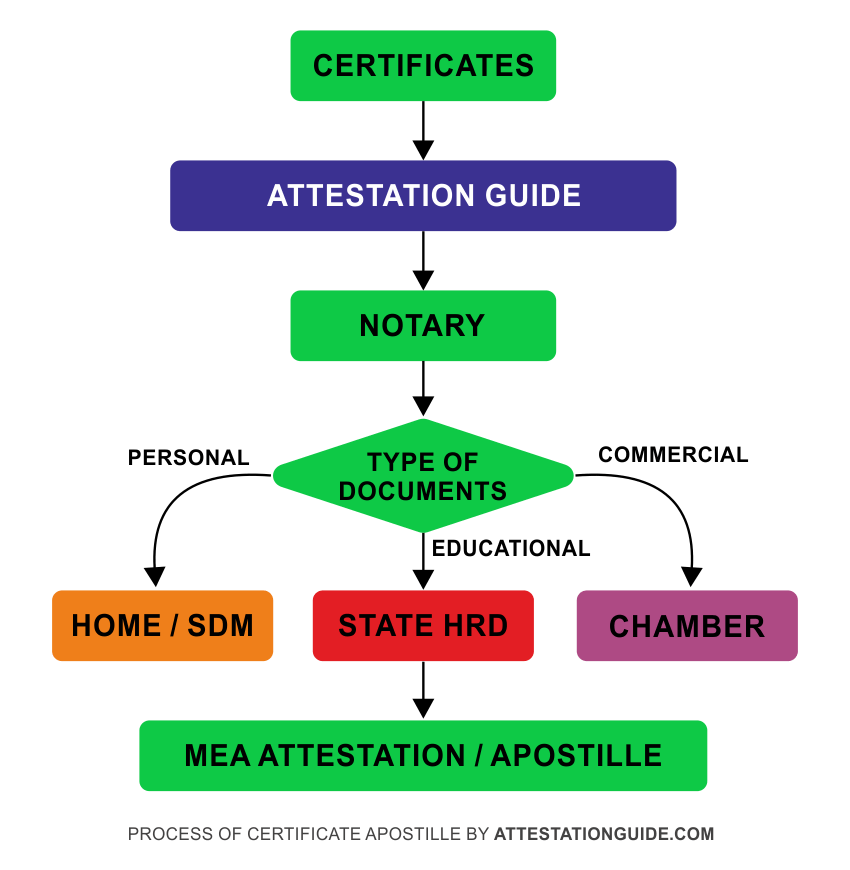 Process of Document Apostille
Obtaining an apostille is a time-consuming and challenging process. You need to make sure that you follow the steps which have been given below in the correct order. The process of document apostille for different documents has been given below in detail.
Educational/ Non-personal documents:
Get the educational documents verified by the local notary from where they have been issued.
Get the personal document attested by either the Home Department or the Sub-Divisional Magistrate
Get the apostille sticker from the Ministry of External Affairs (MEA).
Commercial Documents
Get the commercial document attested from the Chamber of Commerce (COC)
Get them attested by the Ministry of External Affairs MEA directly.
What Does an Apostille Look Like?
An apostille is produced by a computer and has a square shape.
These typically have a Unique Identification Number put on the reverse side of the paper.
Any country that is a part of the Hague Convention can check the authenticity of the apostille by using this Unique Identification Number.
What If Your Documents Are Laminated?
Many of us have the habit of keeping our important documents laminated in order to protect them from different kinds of damage. However, it is not possible to carry out the attestation of the documents without removing the plastic from the document. Removing the plastic may seem scary as the document might get damaged then.
With the Attestation Guide, you will not have to worry about that. All you need to do is submit your laminated document and we will take care of the rest on your behalf.
Time Taken to Complete the Process
If you are planning to get an apostille for your documents all by yourself, that it is an extremely time-consuming process. With different offices located in different places, all of them have different waiting periods; it can take a lot of energy too.
With the Attestation Guide, you get a guarantee that the process will be completed in 7-8 days.
If you have a deadline, let us know and we'll finish your work quickly.
What Is the Cost of Apostille?
If you plan to get your documents an apostille by yourself, it will include a lot of expenses including travelling, living, food expenses, and not to mention the opportunity cost of time that you lose in the process.
However, with the Attestation Guide, you will not be charged any extra fee for delivery or additional requirements. To add to that, we do not charge any extra fee for speeding up the process to complete the procedure.

How to Start the Process?
With the Attestation Guide, you only need to follow a simple process in order to get your documents an apostille. Just get in touch with our executive team who will maintain a personal connection with you.
Our executive team will fulfil all of your legal processes and complete all the legal formalities. On their completion, any further queries will be addressed after which the documents will be picked up from your home. You will be notified when our executives will reach you for picking up your documents.
On picking up your documents, you will be given a receipt to inform you about the collection of your documents. As soon as the documents reach us, we will begin with the paperwork. You will be able to follow the progress of your paperwork online, about which we will regularly keep you updated. You can relax during this process because we operate using a very standard procedure that ensures the safety of all of your documents.
As soon as the documents get an apostille, we will mail them to you. We do not keep the documents for a period of time that is longer than the requirement. Further, you do not need to worry about the extra costs for the pickup and delivery fees, since we provide them without any additional costs.
Why Choose Attestation Guide?
Attestation Guide has been in the industry for many years and offers the best attestation as well as apostille services to its clients. Attestation Guide is a government authorized firm and hence gets all your documents and certificates apostilled for you in a legal manner as per the guidelines specified by the government.
The services provided are accurate and significant, and the personnel is client-focused.
We've worked in the region before, and now we can provide quick and easy service.
The solutions offered are fully legal, and we will handle the entire procedure for you.
We also provide pickup and delivery services to meet your needs.
We will fulfill any apostille requirements that a customer has.
---
Frequently Asked Questions
Who Can Apostille Documents for Me in Hyderabad?

Attestation Guide is a government approved agency and is known to have several years of experience in the said field.

Attestation Guide ensures that the document's privacy is maintained, safety precautions are followed and the work is done in the promised time frame. Call us on: - 8000399331

What if the Documents are laminated?

Individuals use lamination as a method of protecting their original papers. The Apostille sticker cannot be applied to a laminated document, so there's no requirement to pull the lamination off yourself because this might do serious harm to your original papers. In this case, you can send us those documents as they are, and our experts will remove the lamination and that too without causing any harm to your documents.

How can I access free pickup and dropoff services?

You can contact our professionals at the Attestation Guide after you've decided to use our expertise to work on your documents. You can also visit our website and choose the service you want. You will get free pickup and drop-off with our services.
---
Customers Review
Remember this service for lifetime. I was getting this chance and had to immediately give the attestation. They did not delay and saw that I get my chance. Anytime I am back, I will give them my good wishes through more clients.
Attestation Guide is good quality, good communication, and they are very knowledgeable person and provide us full information and full help to us.
The attestation, verification and apostille were new words for me. They did all that I wanted. I liked their approach, sincerity and serious work. I will always be obliged that they helped me. This was done in a time of 7 days. Wonderful and good work
---
Let our Legal Expert Contact you
Inquire here