Medical Certificate Attestation for Gulf Countries
A medical certificate is one of the most crucial papers that must be authorized. The verification will be critical in confirming the authenticity of the characteristics indicated in the document, and hence their validity. The attestation of a medical certificate will also assist you in confirming the purpose of your travel to a Gulf Countries.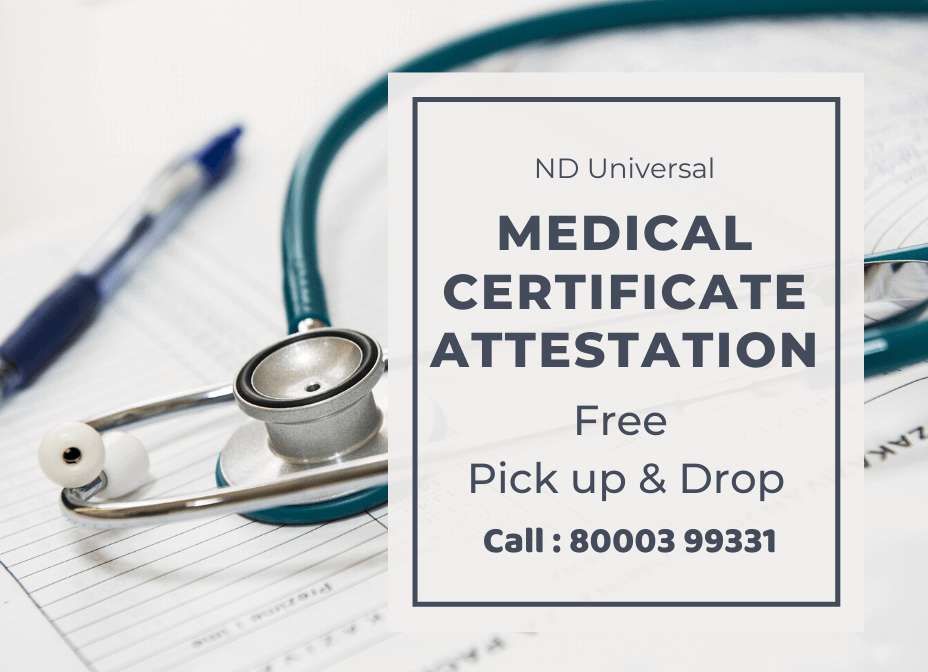 Medical certificate attestation benefits
It is important because of the reasons mentioned below:
Helps extend work leave:

In Gulf countries, one can take short-term and long-term leaves at his or her workplace with the help of medical certificate attestation. This will help you show proof of your medical condition.

For getting an extension and salary when on leave:

You will be able to claim your salary at the end of the month even if you have taken leave due to reasons related to a medical condition.

Claiming insurance:

It is easier to claim insurance when you have your medical certificate attested. When you have your medical insurance it is easier to cut down expenses and get financial aid through this when dealing with a medical situation.
Documents That Are Required For Attestation
it must be handled correctly because it is a multi-step process. All authorities must sign off on the paper. The following are the primary papers that will be involved:
passport photocopies
Authentic Medical Certificate

Always keep in mind that attestation is only performed on original papers. Also, a list of secondary documents typically instructed for validation is given below.

Passport-size photographs
Passport's application receipt
Passport's photocopies
Visa's photocopy
Aadhar Card's photocopy
What Is The Procedure For Medical Attestation?
Document attestation is never a one-step procedure. It is definitely delicate, and precision should be factored into the equation since even the smallest inaccuracy might derail the entire procedure. It is preferable to seek the assistance of specialists for the treatment in order to avoid any uncomfortable situations during the procedure. The procedure is broken down into five basic steps:
Step 1: Notary Attestation

The first stage in handling is certification, which is completed by a notary. It is given to you by a regional notary. It is given in the form of a seal or a sign. The notary is an essential necessity for any legislation engaging with the verification procedure. This is the initial stage in the attestation process for educational and personal papers in India.

Step 2: Attestation by the State Home Department

The State Home Department is in charge of attestation of personal papers and certificates. Personal documents that have been legalized include birth certificates, marriage certificates, and death certificates. The Home Department is in charge of personal document attestation, and only the designated authorities can testify to papers. They only have the power to attest, and this is the second stage in the legalization of personal papers.

Step 3: SDM Attestation

In exceptional cases, as well as for HRD, the Sub-Divisional Magistrate for the Home Department is employed. There is certain legislation that demands HRD authentication just for educational papers. SDM, on the other hand, is independent in its handling of state government and pursues different functions.

Step 4: MEA Stamp & Embassy Attestation

MEA is the home government's accreditation of the most recent level. It's used for sealing on paper. It is the major department in charge of the country's international relations. Embassy Attestation is done by personnel from a particular nation. The paperwork is authorized here, and for most countries, this is the ultimate certification step after the Ministry of External Affairs.
How Much Time Is Required For The Completion Of The Process?
The length can range from 8 to 10 days, however, this time limit might be extended by a few weeks to months for unforeseeable causes.
Attestation is a time-consuming procedure that nobody can overcome, but to avoid any unnecessary inconveniences, it is always suggested to get assistance from a service provider. To prevent such problems, contact Attestation Guide for attestation services. We are government-approved attestation service providers with over eight years of expertise. We promise that your medical certificate will be attested within 5 days.
How Much Will Attestation Cost?
Personal document attestation is not a straightforward procedure. Before the final attestation, critical measures are conducted. It starts with notary attestation and ends with Embassy or Consulate certification. fees must be paid while having the document witnessed by oneself, such as transportation costs from one location to another.
Because all of the divisions are spread out, it is difficult to eliminate travel expenses. One may avoid such unwanted fees by choosing Attestation Guide, which offers free pick-up as well as drop-off facilities, as well as a straightforward service method with no additional expenses. Attestation Guide provides attestation services at minimum cost of Rs 8500/-
How To Start The Process?
To begin procedure with Attestation Guide, please contact our elected official. Our Representative will professionally answer all of your questions and provide you with relevant data about the full procedure.
Representatives also execute any further necessary paperwork that may be involved. Once the requirements have been completed, the documentation and certifications that need to be attested will be collected from your residence.
We will also supply you with a receipt. The procedure begins as soon as the documents arrive at our office.
We follow a well-organized procedure, and we assure the security of all papers and certifications you submit to us using a system that also verifies every stage and procedure that is completed.
As a result, authorized government agencies and bodies verify all of your credentials and certifications. We also provide free pick-up as well as drop-off services for papers.
Why Choose Attestation Guide?
There is a lot to consider when having a document certified. Because it is a multi-layered procedure, the entire process may be highly complicated.
Every documentation requires specific consideration during the procedure to ensure its safety and to ensure that every stage is completed correctly.
Attestation Guide will provide you with high-quality, end-to-end service, from picking up your papers to delivering them with assured attestation.
Our approaches are based on the legal processes established by the government.
You will enjoy a quick and efficient attestation procedure if you choose us.
All you have to do is spend your attention and efforts on us by submitting the necessary documentation to our office.
If you are unable to mail us your papers, our authorized employees will scoop them up from your home, and we will give you a tracking number when we get your documents, allowing you to trace their route. In addition, frequent updates will be sent through email. The below points are some of the centrepieces of our amenities:
We take special care in looking over your documents.
We pick up and deliver all your necessary documents at no cost.
The whole process will be completed within 5 days only.
You may track the progress of the attestation via our site.
You would not need to step out of the comfort of your home for a single reason pertaining to the attestation of your papers.
We are a government-registered company and that means we are reliable and your documents will be absolutely safe and secure in our hands.
We will not hold your papers for any longer than necessary as we respect your privacy.
Everything will be done at a minimal cost.
---
Frequently Asked Questions
---
Customers Review
Remember this service for lifetime. I was getting this chance and had to immediately give the attestation. They did not delay and saw that I get my chance. Anytime I am back, I will give them my good wishes through more clients.
Attestation Guide is good quality, good communication, and they are very knowledgeable person and provide us full information and full help to us.
They are very helpful and I am free to ask them any question any time. My documentation process was very smooth because of them. They are even helping me in Hungary after I reached here.
---
Let our Legal Expert Contact you
Inquire here