Apostille Services In Mumbai
If you are travelling to European countries or any other country which is a member of the Hague Convention group, you must authenticate your certificates with an apostille. It can be used for many things, like to get admission in college, a job, a work visa, or a family visa. Attestation Guide gives you fast and error-free services for getting your documents apostilled. We offer you not only the best apostille services in Mumbai but throughout India. Our branches spread in India gather not only trust but support as well.
What Is an Apostille?
The attestation of an apostille signifies that your documents are authentic in accordance with international law.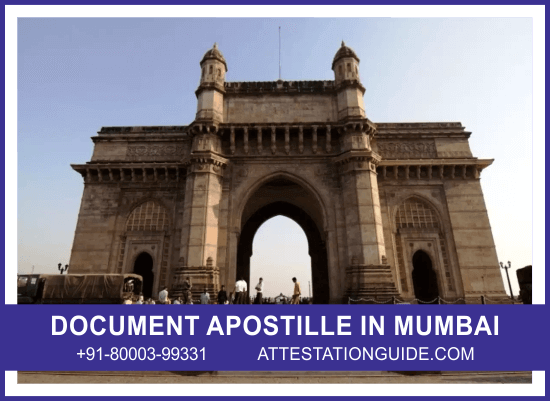 It is the responsibility of the Indian government's MEA (Ministry of External Affairs) to provide international assistance. Stickers of attestation for authentic papers that can be used in other countries as a result of the Hague Agreements. They will be apostilled after the documentation and certificates have been completed, the document can be legally utilised in different nations.
Why And When Apostille Of Documents Is Required?
An Apostille is one of several types of attestation.
apostille stickers with unique numerals are applied to the reverse side of certificates.
Legalisation of the certificate is necessary for different types of reasons like student visa, residence visa, employment visa, and many more.
Educational Purpose
In case you want to pursue a degree abroad or get a job in another country, you need a visa to live in your desired nation and continue with your education or job.
To avail of a visa, first, your documents need to be verified by the Ministry of External Affairs.
Marriage Certificate Authentication
Getting a spouse visa, green card, residential visa and so much more are covered under this.
Birth Certificate apostille
Birth certificates could be used to prove your residence or date of birth in a foreign nation.
If you or your child wish to take admission to a school or university, get enrolled for higher education, then you must use your or candidate's birth certificate.
it is also useful to bring your kids to remain with you for family visa
Business/ Commercial Reasons
If you want to export your things to another country, if you are wondering why your export document is not eligible for exporting your merchandise to a foreign nation, well you need to apostille the relevant export document certificate.
Getting the documents related to business apostille also becomes mandatory in several cases.
If you wish to start a new business in a foreign land, then you should get your commercial certificate.
If you want to expand your business, create a partnership or even establish a company in a foreign nation, it will be helpful for you to apostille these documents.
Police Clearance Certificate
If you want a job in another nation, they might want to verify if you have any criminal records or not, this will assure them that you are not a criminal and are safe to join them.
Affidavits and other Legal Documents
Affidavits are used to prove any of your statements or change your name, date of birth, residence, etc. in the court of law.
Various other documents like contracts, prenuptial agreements, and other kinds of documents related to the law also need to be verified in case you want them to be applied in other countries.
Death Certificate
It is also required to solve legal matter to get insurance claims or financial purposes
Documents Required for Apostille Process
Supporting documentation must include a copy of your passport.
if you don't have passport copy you can also share passport application receipt or any Indian document like aadhar card or voting card
Process of Document Apostille
The process of document apostille is very complicated and lengthy. It can take weeks and even months if you do not have the proper knowledge and connections. Here is a summary and introduction of how you can apostille your documents: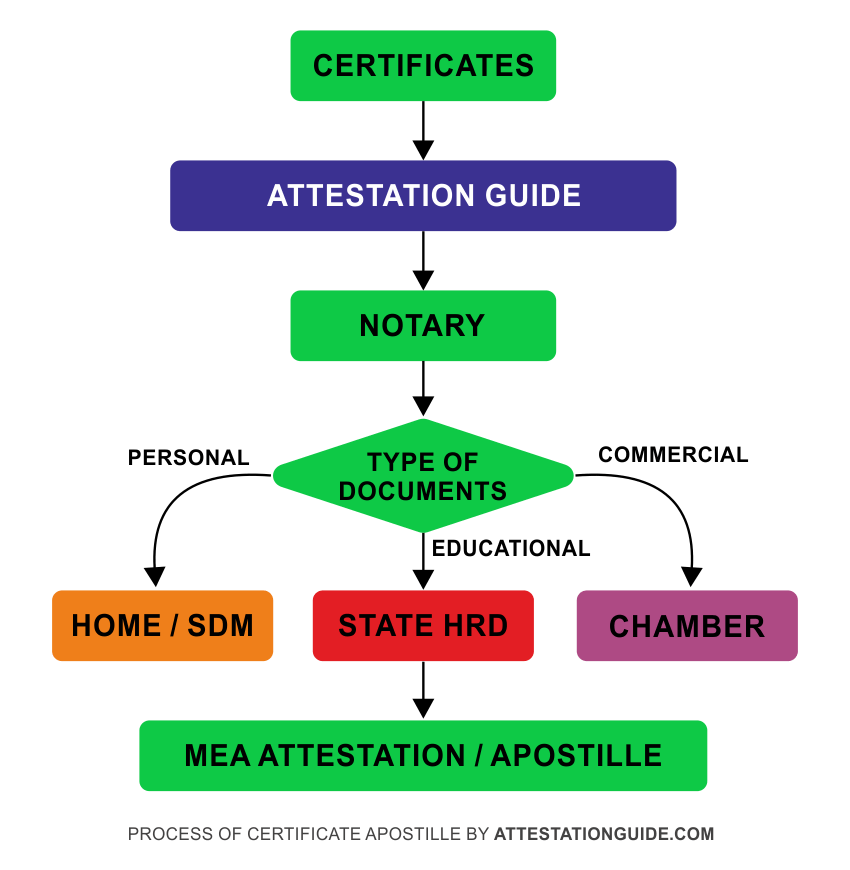 Personal documents
If you need to apostille your documents, the first step is to get them attested by the local notary.
Later, they should be verified by the Sub-divisional magistrate or the Home Department.
Lastly, they need to be verified by the Ministry of External affairs.
Educational / non-personal documents
These documents are first verified by the local notary or the institution from where they were issued initially.
Next, they have to be verified by the Human Resource Department / SDM
Lastly, it should be attested by the MEA.
Commercial documents
Need to be attested by the Chamber of Commerce (CoC).
Lastly, they also should be attested by the MEA.
Time Taken to Complete the Process
The time required depends upon the kind of document to be apostilled, Attestation Guide is one of those organisations that will take care of your documents better than you. The maximum time taken by us to complete the process is a week. We can assure a time limit of 7 to 8 days for a proper apostille service.
If you require documents immediately, please inform us, and we will attempt to complete them within 3 business days.
What Is the Cost of Apostille?
The price of an apostille is between 4,100 and 5,100, depending on the documents. If you have more documents, the price can go down. Contact us for more information.

How To Start the Process?
To start the process, you just need to call us. Our executive, who is available at all times will solve your queries and inform you on how to start the process. With the formalities out of the way, you can focus on the pick-up. Our delivery partner, Blue Dart will pick up the document and you can rest easy. From then on, we will carry the burden of the apostille process. Just wait for 7 to 8 working days, and we will deliver the document to you, without any issues. you can track the progress online, you can even call us for updates, we make sure our customers are worry-free and happy.
In case you are concerned about the price, our pick-up and delivery services are entirely free of cost. So cost-effective and hassle-free, that's our motto.
Why Choose an Attestation Guide?
It is common knowledge how delicate and nerve-wracking the apostille process is. Choosing a company for apostille attestation in Mumbai is like picking a needle from a straw. So, given all these choices, why should you choose us? Here is why:
Complete Privacy protection: We understand the need for privacy, and when you are giving us delicate personal documents, your tangible worry is acceptable. But the Attestation Guide gives you 100% privacy with 0% risks.
Free Delivery and Pick Up services: We guarantee you a free pick-up and delivery service of your documents without any hassle and any strings attached, like the cherry on top of a delicious cake.
Brand value: Attestation Guide is a company that has branches all over India. Goa, Nagpur, and now Mumbai, we provide services all over India, with more happy clients than fish in the sea.
So, you can choose Attestation Guide and avail of our 24x7 services to get your documents apostille at the lowest cost and the best service available.
---
Frequently Asked Questions
What countries are accepting apostille documents?

Apostille is necessary only when you need to send your documents abroad. As per the Hague Convention, more than 90 member countries accept the apostille documents. So if you want a visa from a country that is a member of the Hague Convention, apostille your documents. But do not worry as countries like Australia, the UK, New- Zealand, Abu-Dhabi and so many more are a part of this Convention.

How can I access free pickup and drop-off services in Mumbai?

You can easily access the free pickup and drop-off services if you live in Mumbai. Availability of the delivery service is pretty easy. While you are talking to our executive, they will inform you about this service of ours. They will ask you if you want to avail of the service. You can accept and rest easily. Your document will be apostilled while you are chilling on your couch.

What if your documents are laminated?

Laminated documents cannot go for the apostille process. The plastic needs to be removed. Removing it yourself can lead to damage to the document. But do not worry, you can submit your laminated documents with the Attestation Guide. We make sure to remove the plastic with utmost care and precision, under the guidance of professionals.
---
Let our Legal Expert Contact you
Inquire here