Apostille Services In Bangalore
We offer apostille services in Bangalore for people who want to get a work visa or a family visa to go abroad.
What Is An Apostille?
An Apostille is similar to a sticker or a stamp, but it is used on back side of certificates, and other paperwork that will be used in other countries.
The main and most important reason for having an Apostille sticker is to prove that the information on the document is true and genuine.
When and Why Is a Document Apostille Needed?
Apostille Services is a necessary step when going to a foreign nation.
People whose documents have been apostilled will be eligible to get visas for countries that have signed the Hague Convention and accept apostille documents.
The different purposes of document apostille are listed below.
Degree Certificate
These educational qualifications Certificates help with applying for a student or an employment visa.
Both for reasons of higher education and employment, this is quite important.
Birth Certificate
This certificate needs to be apostilled because it's necessary for admission to a college or school.
It will make it easier to get the Visa.
Marriage Certificate
Once the document has been apostilled, it can be used to apply for a resident visa, a family visa, or a dependent visa.
Police Clearance Certificate
This certificate's apostille will ensure that it can be used for Visa purposes and an individual does not have any prior criminal history.
The documentation needed for the apostille process
We required the original documents as well as a copy of your passport for the apostille. You can mail us any other kind of identification that demonstrates your Indian citizenship if you don't have a copy of your passport, such as an aadhar card or a voting card.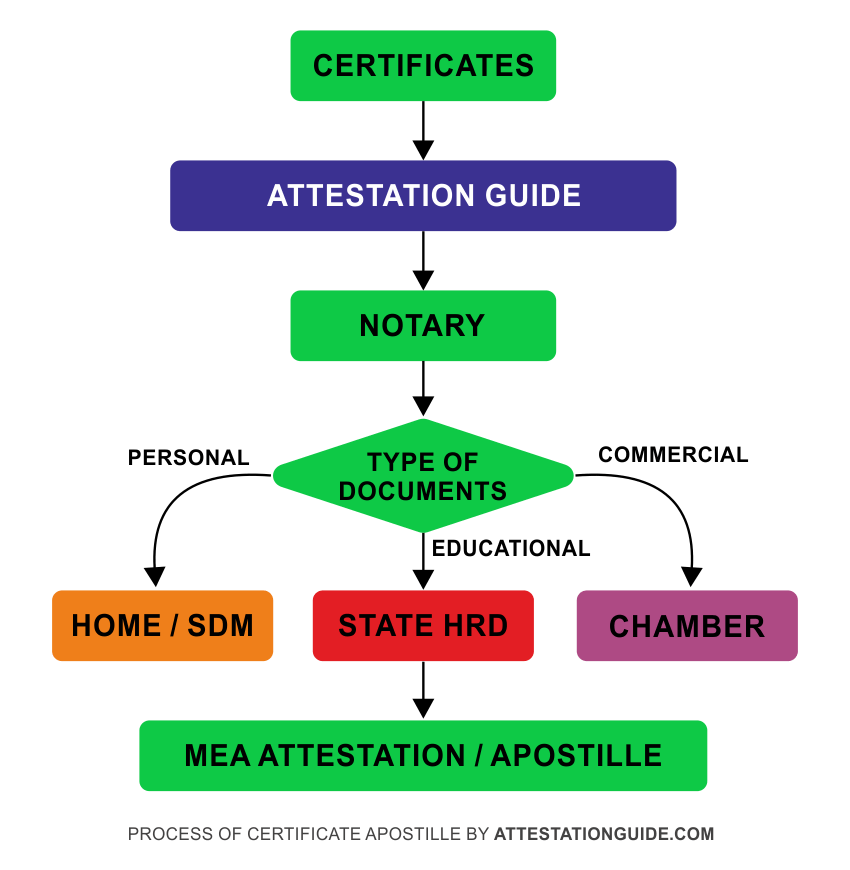 The process of obtaining an Apostille on a document
Apostille Attestation in bangalore are performed in a variety of ways. It varies depending on the type of paper.
Educational Documents
Verification from University/ authority from where they were issued
State verification by Human Development Department
Apostille Sticker by Ministry of External Affairs
Personal Documents
Verification from the local notary
State verification by Home Department or Sub Divisional Magistrate
Apostille Sticker by the Ministry of External Affairs
Commercial Documents
Verification from the Chamber of Commerce
Apostille Striker by the Ministry of External Affairs
How long the Apostille process takes ?
The process is lengthy out, and depending on which offices have the documents, if someone chooses to handle it alone, it might take a month or longer. We'll have your apostille documents to you in about 5 to 7 business days, so you won't have to worry about timing with the Attestation Guide.
What Is The Cost of Apostille?
The cost of getting an apostille on a single document is Rs. 4100/-. If you have more than one document, the price can go down.
You can be reached at: 8000399331 Whatsapp can also be used if you live abroad.

How To Start The Process?
You can speak with Mr. Nitin, our executive.
The executive will take over from there and devote extra time and effort to the Apostille procedure for your document. We will collect the documents that require an apostille stamp, and once they are in our hands, we will send you a receipt in your name.
Why Choose an Attestation Guide?
People have known for a long time that they can trust The Attestation Guide because of how hard they work, how they meet deadlines, etc. Our only goal is to give our clients a good experience so they don't have to worry about it while they're busy with other things.
In Bangalore, we offer free collection services.
Premium quality service
Nominal charges with efficient service
Online tracking system for documents
SMS services for regular updates.
What if the Documents are laminated?
Laminating is a way for people to keep their original papers safe. The Apostille sticker can't be put on a laminated document, so you don't have to take the lamination off yourself, which could seriously damage your original papers. In this case, you can send us the documents as they are, and our experts will remove the lamination without damaging the documents.
---
Let our Legal Expert Contact you
Inquire here