Get Marriage Certificate Attested by Embassy
The Marriage Certificate needs to be authenticated to show that you and the document are Genuine.
You must have your marriage certificate Attestation if you plan to travel abroad or stay with your family, according to international law.
If your spouse is working abroad and you wish to stay with him, you'll need an attestation of your marriage certificate.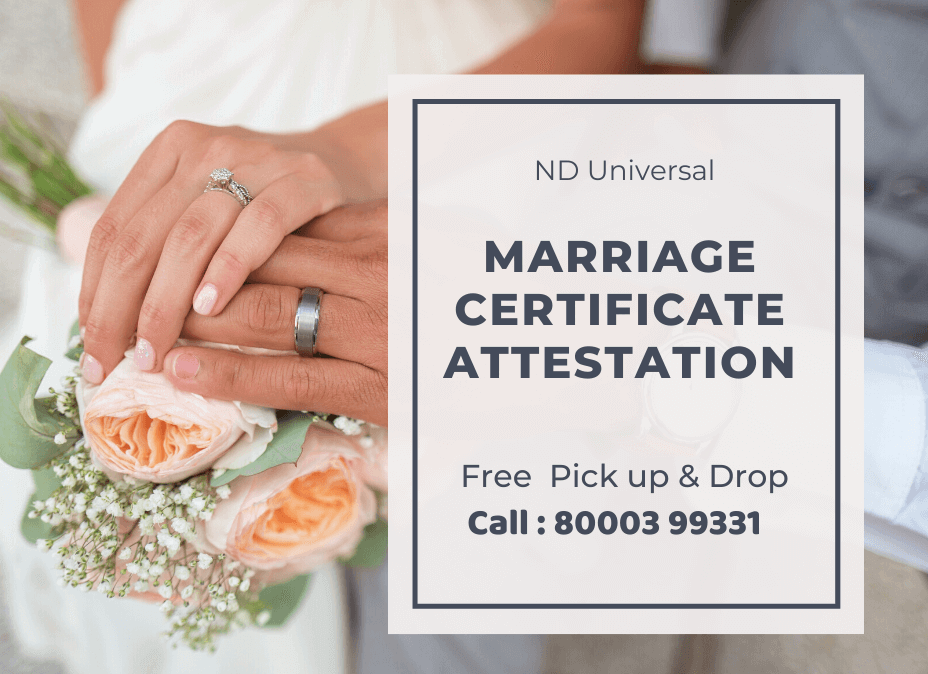 Why Do You Need to Attest a Marriage Certificate?
The need for Certificate Attestation arises in the given situations:
It is a way to legally prove your married status or your relationship with another person abroad.
Attested marriage certificates help to migrate couples to live in a country that is not a part of the Hague Convention.
Marriage certificate attestation is an essential requirement while applying for work visas in.
It is also needed as it is used for applying for a resident visa or a dependent visa in a country.
Documents Required for Certificate Attestation
These are necessary for verification purposes and for the process to be smoothly and legally conducted. However, attestation is done only on original documents.
Documents required for Marriage attestation include:
Original Marriage Certificate
Photocopies of the passport (both person)
Passport-size photographs
What Is The Procedure?
The procedure for Certificate is as follows:
Step 1: Verification by Notary
While getting the marriage certificate attested, the first step involves the verification of the original certificate by the concerned district's notary. The notary verifies the certificate by giving a stamp or a signature. This is essential for moving on to the next step.
Step 2: Verification by Home Department
Personal documents like marriage certificates are attested by the concerned state's Home Department. At the state level, the Home Department is the authorized governmental body that verifies and legitimizes the certificates or the documents.
Step 3: Attestation by the Ministry of External Affairs
The Ministry of External Affair is the governmental body at the central level which deals with all foreign-related matters and attests documents and certificates which have to be used outside. After documents and certificates are attested at the regional and state level, they are attested by the Ministry of External Affairs. Attestation is in the form of a stamp or a signature on the document. After this is complete, it goes forward for Embassy Attestation.
Step 4: Attestation by Concerned Embassy
The final stage of attestation involves attestation by the concerned embassy. Attestation by the embassy of the country which you are planning to visit is an essential step that legitimizes the document or the certificate and information contained in it, making it eligible for usage in the concerned country.
How Much Time Is Required For The Completion Of The Process?
Attestation involves various steps of verification and attestation which often takes a lot of time to complete.
Time taken can vary on the basis of the type of documents and the country for which it has to be attested.
It takes 8 to 10 day's time for completion of the attestation process, but it may get stretched as well.
If you wish to avoid such delays in the process of attestation and want it completed quickly, you can hire Attestation Guide for high-speed attestation services.
You only need to submit your documents to us at our office. If that is not possible for you, we send our trusted agents to collect your documents from your doorstep in just one day.
You will also receive a tracking ID to track your courier and regular updates will be given to you by us through email.
How Much Will Attestation Cost?
Attestation cost will depend on the type of certificate or document, its origin, and the country where you want to use them. Thus, the cost usually varies.
Getting documents attested by yourself will be heavy on your pockets because it will also require you to travel to different parts of the country where these departments are located.
If you want to get rid of such additional charges, you can hire Attestation Guide as your attestation service provider which can provide you services at highly reasonable rates.
Free pick-up and drop-off services are offered by Attestation Guide for your documents and certificates.
You will therefore not be required to travel to different places and save on your travelling expenses. Our quick and efficient services are available at affordable prices.
How to Start the Process?
For you to start the process, you need to first contact the Executive at Attestation Guide. You will get personal attention for all your doubts and queries from our executives.
They will also provide you with all the information that you need to know before starting the attestation process and then complete all the essential formalities. Once this is done, your documents and certificates get picked up by our agents. On receiving the documents, we immediately start the process of attestation. Attestation Guide conducts the attestation process in accordance with the guidelines of the government.
Why Choose Attestation Guide?
Attestation is a multi-level process and needs a lot of attention to detail. Different methods are also followed for different types of documents and certificates. It is a time-consuming process and also involves you shelling out a lot of money when done individually. Thus, completing the attestation process done in a safe manner can be quite a task. In order to avoid such problems, it is recommended that you always avail the services of a government-approved attestation service provider. Attestation Guide offers the best attestation services all over India. We guarantee you rapid services which are methodical and affordable.
Attestation Guide also ensures that the services which are offered adhere to the government's guidelines. Our end-to-end services are high-quality. We start at your doorstep with the picking up of your documents, getting them attested, and end at your doorstep when we drop them off for you. Attestation Guide abides by all the rules and regulations of the government. Legal, accurate and quick services are the key features of the services offered by Attestation Guide.
Our Highlights
Experience of more than 8 years
Efficient customer care service
High-speed services
24*7 open customer care helpline
Affordable services
Transparent attestation process
Safe attestation process
Free pick-up and drop-off services
We have a 24*7 open customer care helpline to attend to the queries and doubts of the customers.
---
Customers Review
The attestation, verification and apostille were new words for me. They did all that I wanted. I liked their approach, sincerity and serious work. I will always be obliged that they helped me. This was done in a time of 7 days. Wonderful and good work
Remember this service for lifetime. I was getting this chance and had to immediately give the attestation. They did not delay and saw that I get my chance. Anytime I am back, I will give them my good wishes through more clients.
They are very helpful and I am free to ask them any question any time. My documentation process was very smooth because of them. They are even helping me in Hungary after I reached here.
---
Let our Legal Expert Contact you
Inquire here