Apostille Services for Indian Birth Certificate
What is Apostille Attestation?
Apostille is a special kind of sticker which is required for documents and certificates which are to be used in some other country. However, these countries which require apostille attestation of the documents and certificates are those countries that are a part of the Hague Convention. An apostille for a certificate or document is a way of legitimizing whatever is mentioned in that certificate or document.
Apostilled documents and certificates are a way to acquire different types of visas for countries that are signatories to the Hague Convention. These documents and certificates which receive apostille are also used for different kinds of verification processes. If you do not have apostilled documents and certificates, you will not be permitted to enter these countries, and the authorities are likely to take strict measures against you in such a case.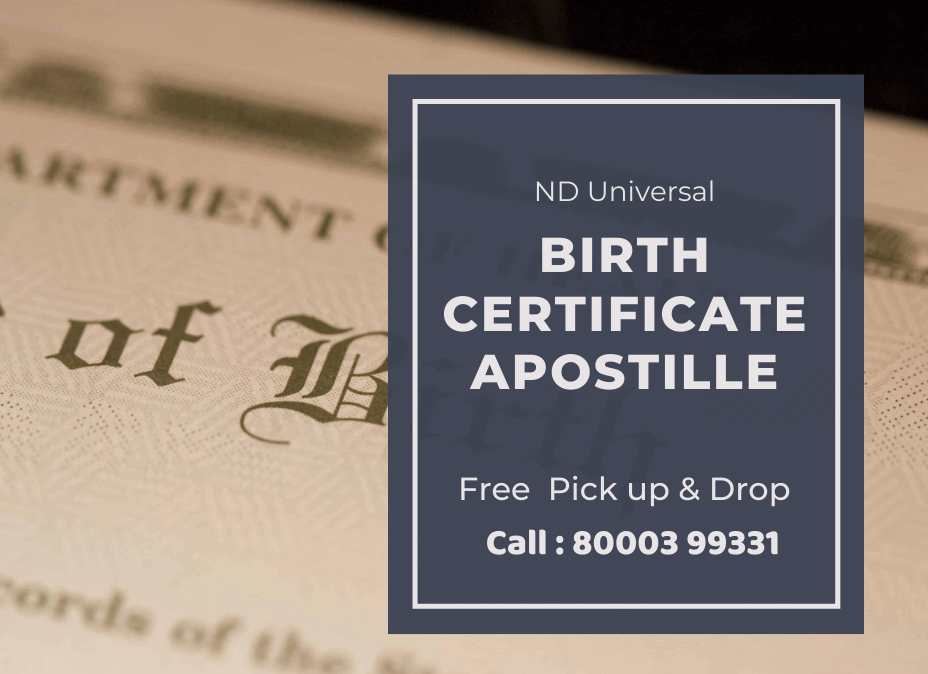 The Ministry of External Affairs in India is the government body responsible for providing individuals apostille attestation for their documents and certificates which are legal and authentic. Acquiring apostille for documents and certificates makes a way for them to be used lawfully in some other country that is a part of the Hague Convention. Apostille is thus an important certificate or attestation which authenticates the signature of the government officials on the documents and certificates which have to be used in another country.
What Is a Birth Certificate Apostille?
Attestation is a process by which different documents and certificates get validity for being used abroad. An Apostille attestation gives documents and certificates unique digits, which help confirm the legitimacy of whatever details are mentioned in the documents and certificates, in some other country where these need to be used.
Birth Certificate Apostille is the verification and attestation of birth certificates of individuals which need to be used in some other country for various important purposes as birth certificates are required for seeking admissions in colleges, proving nationality, for acquiring a visa, and so on. Several apostille service providers are available in India who can help you with the process of apostille attestation. However, you must always avail the services of those who have government authorization for providing apostille services. Attestation Guide is a government-authorized firm and offers its clients the best apostille services in India.
When Is The Need for a Birth Certificate Apostille?
A Birth Certificate is an official document that contains information about the birth of an individual. It has vital information regarding the date, day, time, and place of birth of the individual. In India, it is issued by the Municipal Corporation or the Municipal Council in urban areas and by Tehsildar and Gram Panchayat Office at rural and village levels respectively. A Birth Certificate Apostille is needed in the following circumstances:
If you are planning to study in school or want to pursue higher education abroad from a particular college or university located in a country that is a part of the Hague Convention.
If you wish to apply for any kind of visa for such a country.
Birth Certificate Apostille is also a way of proving your origin and nationality in another country and is needed to verify your nationality in a legal manner.
These documents and certificates should be lawfully apostilled if you want to use them in another country for certain legal rights and for your own benefit.
What Does An Apostille Sticker Look Like?
In India, the authorized government department issues the Apostille. The Apostille sticker has the following features and appearance:
Apostille stickers are special kinds of stickers generated electronically through a computer.
The length of the sticker is approximately 9 centimeters.
It contains a specific code. This code is a way of proving the legitimacy and authority of the information contained in the document or the certificate.
These stickers are typically registered, numbered, dated, and impressed by the seal of the government.
The Ministry of External Affairs (MEA) is the government body in India which grants apostille stickers.
Documents Required for Birth Certificate Apostille
There are various documents and certificates which might require apostille attestation in order to be used outside and each of these goes through varied processes of verification. These documents which require apostille can be divided into two distinct categories, major and minor. Out of these, major documents are the ones that are used abroad and minor documents are the ones that act as secondary or supporting documents in the process of verification.
Birth Certificate (The primary and the most essential documents required for Birth Certificate Apostille include the original copy of the birth certificate) and
Other supporting documents such as Aadhar Card.
Supporting or secondary documents are essential in performing background checks for the authentication and verification of the birth certificate.
A list of secondary documents which are mandatorily required for verification is given below.
Passport-size photographs
Passport's photocopies
Passport's application receipt
Aadhar Card's photocopy
Visa's photocopy
Time Taken To Complete The Process
The Time taken for the completion of the apostille attestation process is dependent on the kind of documents and certificates which require apostille attestation. At the stage of pre-verification, every document goes through a different process. This verification is conducted at various levels such as the local, state, and national level. Once the verification is complete at all these levels, they receive the approval of authorized governmental bodies and in turn, become eligible for the Ministry of External Affairs' Apostille Stamp.
This process is often time-taking and if you want to get this done individually, it might take you almost a month to complete the process and acquire apostille because in certain cases, different departments hold on to the documents and certificates for a number of verification processes. However, if you wish to receive apostille attestation of your documents faster than it usually takes, you can go in for hiring Attestation Guide as your apostille service provider. Attestation Guide gets an apostille for your documents and certificates in nearly 5 to 7 working days.
What Is The Cost Of Apostille?
The entire process of apostille attestation for your documents and certificates demands you to bear a certain cost which depends on the type of documents that need to be apostilled, the number of documents that need to be apostilled, and if the documents require any distinct or special process for the verification to complete. Different authorized bodies are located in different parts of the country and travelling all over the country for verification before applying for an apostille is a time-consuming, stressful, as well as an expensive choice.
In contrast to this, the apostille services which Attestation Guide offers its clients are quite affordable and fast. We get apostille attestation for your documents and certificates in a quick and hassle-free manner and you are not required to pay us anything extra for this. You can contact Attestation Guide anytime in order to avail the best apostille services in India.
Process of Birth Certificate Apostille
Birth Certificate falls under the category of Personal documents. Apostille services in India for various documents or certificates differ on the basis of the type of documents. The process of Birth Certificate Apostille involves the following steps:
Step 1: Notary Attestation
This is the first step wherein the birth certificate receives attestation in the form of a signature or stamp from the local notary.
Step 2: Home Department Attestation
The next step involves verification of the birth certificate from the State Home Department.
Step 3: Sub-Divisional Magistrate Attestation
This step is not always common in the case of birth certificates. It is rarely used. Sub-Divisional Magistrate performs in an individual manner and is an autonomous body.
Step 4: Receiving Apostille
After all the above steps are done, the Ministry of External Affairs provides you with a sticker with the applicant's name and other details. Often, along with the apostille sticker, a stamp of the Ministry of External Affairs is also given on the document.
How To Start The Process?
For starting the process of apostille attestation with Attestation Guide, you need to contact our Executive. Our Executives personally attend to your doubts and queries and also give you detailed information about the process. Any additional formalities required are completed by the Executives. Once this is done, we pick up the documents and certificates from your home or any other specified address. You will be furnished with a receipt for the same. Once the documents reach us, we start with the process immediately.
Attestation Guide allows you to keep a track of the entire apostille attestation process online and we also give you updates regularly. In order to ensure the safety of your documents and certificates, we ourselves verify each process being done in an organized manner. Once your documents and certificates receive apostille, we dispatch them safely to you and you can track the return online.
The process of receiving apostille is different as per the kind of document requiring apostille. Attestation Guide adheres to all government guidelines and works according to them. Thus, we ensure that all your certificates and documents are verified by authorized governmental bodies. We also offer free pick-up and drop-off services for all your documents.
Why Choose Attestation Guide?
Attestation Guide is a firm that has been authorized and recognized by the government as apostille service provider. We aim to serve you in the best way possible and make sure that our clients get superior quality services from us. At Attestation Guide, we are aware of all the difficulties that our clients have to experience if they choose to get apostille attestation done all by themselves. Thus, we offer our clients the best apostille services in India which are affordable and fast. You should choose Attestation Guide because we offer many great services like:
Cost-free pick up and drop off services: For the customers, we offer pick up and drop off services and that too free of cost.
Brand Value: At Attestation Guide, we have a team of specialists working for you and all of them acquired good market experience. We have been catering apostille services for the past 8 years.
Premium-quality Customer Service: At Attestation Guide, our drive is to provide high-end, premium-quality services to our clients.
Affordable Prices: You have to pay minimal costs for the service.
Tracking Facilities: We offer you tracking facilities wherein a system generated by us that will allow you to track the whole process and get recurring updates about it.
24*7 Customer Service: We are open to providing services to our clients at any time and day.
---
Frequently Asked Questions
---
Customers Review
Remember this service for lifetime. I was getting this chance and had to immediately give the attestation. They did not delay and saw that I get my chance. Anytime I am back, I will give them my good wishes through more clients.
They are very helpful and I am free to ask them any question any time. My documentation process was very smooth because of them. They are even helping me in Hungary after I reached here.
The attestation, verification and apostille were new words for me. They did all that I wanted. I liked their approach, sincerity and serious work. I will always be obliged that they helped me. This was done in a time of 7 days. Wonderful and good work
---
Let our Legal Expert Contact you
Inquire here