Hassle Free Process Birth Certificate Attestation
Attestation of a birth certificate is a way of proving your nationality in some other country.
A Birth Certificate typically contains an individual's birth-related information such as the date of birth, time of birth, place of birth, and the name of the country of origin. Attestation of the Birth Certificate is mandatory if you wish to apply for a visa or plan to study abroad in a country that is not a signatory to the Hague Convention.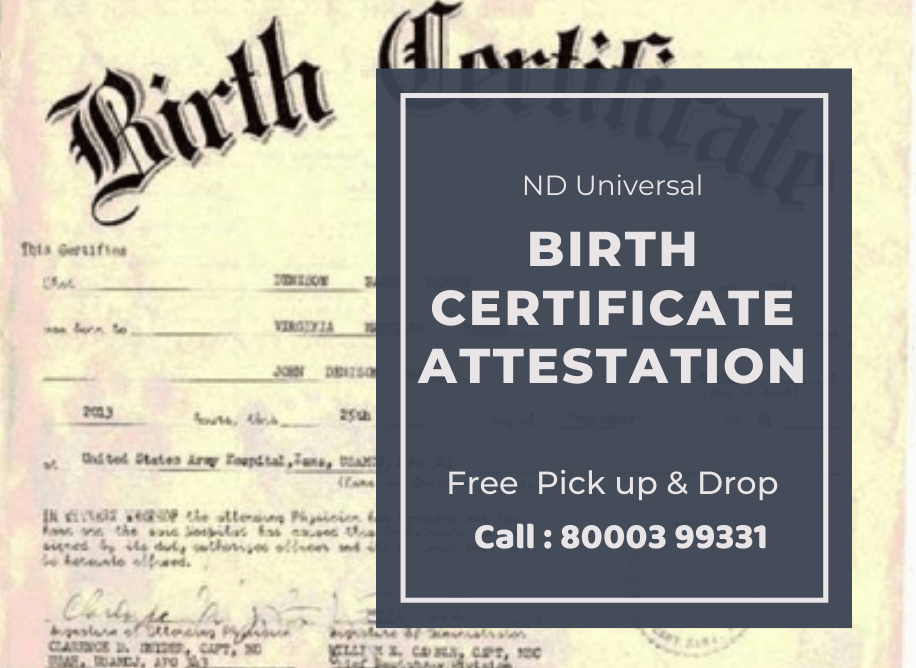 Why is it important to have a birth certificate attested?
While visiting another country for any personal or professional reason, you are asked to present certain important documents and certificates for various reasons. The documents and certificates that you need to present will only be accepted if they are duly attested./p>
The need for Birth Certificate Attestation might arise in the following situation:
When you are applying for a visa for a country that is not a part of the Hague Convention, you
When you are planning to seek admission abroad to pursue education in some school, college.
In addition, it's helpful when applying for a visa for a child.
What Documents Are Needed to Attest a Birth Certificate?
When getting a Birth Certificate attested, you need to present some additional documents and certificates in order to get the attestation process completed accurately and in a legal manner at all stages. Only original documents and certificates require attestation.
Documents required for Birth Certificate attestation include:
Original Birth Certificate
Passport's photocopies
Passport-size photographs
Authorization Letter
What is the process for verifying a birth certificate?
The attestation process of documents and certificates is a thorough process and involves verification at different levels./p>
In India, the attestation process is carried out in the following steps:
Step 1: Verification by Notary
The first step in the attestation of the birth certificate involves attestation or verification by the local notary. This is in the form of a stamp or signature. This is a necessary step for going on to the next step.
Step 2: Verification by Home Department
Verification of personal documents such as birth certificates is done by the Home Department at the State level. The State Home Department is the governmental authority that verifies and legalizes the documents and this is another important step required to proceed to the next level of verification.
Step 3: Verification by Sub-Divisional Magistrate
Another variant of the Home Department is the Sub-Divisional Magistrate. It is an autonomous body and performs individually. This step is sometimes required by certain authorities.
Step 4: Attestation by the Ministry of External Affairs
The department at the central level for attestation of documents and certificates is the Ministry of External Affairs. Once the documents get verified at the regional as well as the state level, the Ministry of External Affairs attests the documents by giving it a stamp or a signature./p>
Step 5: Attestation by Concerned Embassy
After the documents and certificates are verified and attested by various governmental departments, they become eligible for the last step, that is, Embassy Attestation. Attestation by the concerned country's embassy is the final step that legalizes the document for usage in that particular country.
How Much Time Is Required For The Completion Of The Process?
Attestation of a document is a multi-layer procedure. Some factors causing the difference in the process are the state of origin of the certificate or document and the concerned country where it has to be used. Thus, the time taken to complete the procedure also varies./p>
Often many departments hold back the documents for some specific verification and these departments complete the procedure at their own pace. Roughly it takes around fifteen to twenty days for the entire process to complete, but at times the process may get delayed due to any reason.
Thus, in order to avoid any kind of delays while getting the documents and certificates attested, you can hire Attestation Guide as your attestation service provider. We are government authorized and make sure that the attestation is done as per the guidelines issued by the government.
We offer quick services to our clients and can get your documents and certificates attested for you in just 5 to 7 working days.
How Much Will Attestation Cost?
The type of document, the origin of the document, as well as the country where it has to be used, together predicts the cost of the attestation process./p>
If you wish to get your documents attested individually, you will have to shell out more money since you will be required to travel to different departments which are located all over the country.
To steer clear of these additional costs, you can avail attestation services provided by Attestation Guide. We at Attestation Guide offer free pick-up and drop-off services for your documents and certificates and get them attested in a week's time. Thus, neither are you required to travel physically to any of the departments nor do you have to be present anywhere with us throughout the process./p>
We also do not charge anything extra for our quick services. The price range of our services is affordable and reasonable.
How to Start the Process?
To start the process, the first step is to contact our executive at Attestation Guide. The Executive attends to all your doubts and queries and will inform you about the entire process in detail./p>
Once this is done, our executive will help you complete all formalities. After this, our agents pick up the documents and certificates from your doorstep and furnish you with a receipt. As soon as we receive the documents at our office, we initiate the attestation process. Attestation Guide adheres to all government guidelines and gets the documents attested in a legal manner.
Our system enables you to keep a track of the progress of the attestation process online and you will also receive updates from us on a regular basis./p>
The process followed by us is highly systematized and we ourselves verify every step of the attestation process in order to ensure that your documents and certificates are safe./p>
After the attestation process is complete, your documents are dispatched by us and we send you a tracking ID to trace the courier./p>
Why Choose Attestation Guide?
Attestation involves verification at different levels and thus is not a one-step process. A lot of things need to be kept in mind while getting attestation done. At times, it can get very confusing. Also, certain documents have specific needs and accordingly, they are verified. Attestation is also time-taking and when done individually, it can be expensive. Thus, getting documents and certificates attested safely and correctly can be a tough task. To avoid all these hardships, you can approach a government-authorized firm that can help you with the attestation process.
Attestation Guide is one of the best attestation services providers in India and we guarantee you quick and efficient services as per the government's rules and regulations. The process which we follow is legal and we abide by the guidelines of the government. Attestation Guide accurately gets the attestation process done. We aim to offer superior quality end-to-end services to our customers beginning with documents getting picked up from the doorstep, then getting attested, and ending with us dropping off the documents at our customer's doorstep.
Our Highlights
8+ years of experience
Premium-quality customer care service
Fast services
24*7 operational customer care helpline
Modest price range
Transparent process of attestation
Assurance of safety of documents
Free-of cost pick-up and drop-off services
---
Customers Review
Attestation Guide is good quality, good communication, and they are very knowledgeable person and provide us full information and full help to us.
The attestation, verification and apostille were new words for me. They did all that I wanted. I liked their approach, sincerity and serious work. I will always be obliged that they helped me. This was done in a time of 7 days. Wonderful and good work
Remember this service for lifetime. I was getting this chance and had to immediately give the attestation. They did not delay and saw that I get my chance. Anytime I am back, I will give them my good wishes through more clients.
---
Let our Legal Expert Contact you
Inquire here