Apostille Services In Pune
Apostille services are generally done by the department of authentication of documents to verify how original the papers are. Apostille is mandatory when people travel overseas for higher studies, work or employment visas. It is also required if a person wants to bring their families to live overseas with them. So we're here for Professional apostille services in Pune by Attestation Guide. We efficiently provide guidance and assistance to the customers there, wherein they manage and look after all the needs and requirements of the documents of the clients.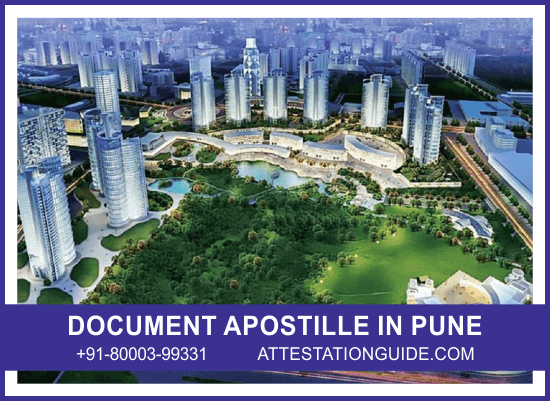 What Is An Apostille?
In general terms, Apostille is a kind of sticker that is used on original documents needed when travelling outside India. It is similar to a seal or a stamp which is put on the backside of papers like certificates or documents. The aim of Apostille is that the documents can be used in other nations for immigration purposes.
Document apostille is quite difficult without the help of a professional attestation service provider as there are various levels of verifications involved. An apostilled document is valid in nations that form to be a part of the Hague Convention. The Ministry of External Affairs in India looks into the matter of Apostille.
List of Documents which you need Apostille for various reasons.
Degree Certificate
Here, with a Degree Certificate, an apostille can help one get a visa for work and employment.
It is also used in nations where people wish to do their higher studies.
Marriage Certificate
This Marriage Certificate with an apostille seal will help you to get a visa like a family visa, dependent visa, etc.
Birth Certificate
In this regard, the apostille will help students in pursuing studies in other nations' schools, colleges, etc.
It's also useful to bring your children to stay with you and also help you get admission in school.
Police Clearance Certificate
A Police Clearance Certificate helps in proving zero criminal records history.
It is considered one of the most important documents as it is binding legally in nature.
Zero criminal record history automatically grants overseas seas as it will show the nation that you are no harm to their citizens.
Export Documents
Export documents should be apostilled by a dealer or merchant to allow smooth transfer of goods to other countries.
This seal also helps business people to acquire registration for their company, expand their deals, obtain export permission.
Single Status Certificate
One might use this Single Status Certificate in order to show that he/she is a bachelor.
It must be required when you want to get married to a foreign national.
Affidavit Apostille
Affidavit like power of attorney which is useful when you give power to someone in your absence.
Affidavit apostille also useful name change difference or lost documents.
Certificate of Death
This Death Certificate basically allows them to claim their insurance or financial purpose from foreign nations.
Showing the apostille death certificate will make the process slightly easier in legal matters overseas.
Certificate of birth
Certificate of marriage
Supporting Documents which is required for apostille
A copy of your passport (front and back)
In Some case if you don't have passport copy you can submit any indian issued legal document like aadhar card or voting card
Process Of Document Apostille
Documents for Education
The documents and certifications will be verified by either the Regional Notary or the Institution.
The Human Resource Development Division (HRD) will then verify the papers as part of the government verification procedure.
The Human Resource Development Division (HRD) will then verify the papers as part of the government verification procedure. If both verifications are successful, documentation would be entitled to an Attestation from Ministry of External Affairs (MEA).
Personal Documents:
At first, the local notary department will verify the documents
State verification will be done by the sub-divisional Magistrate.
If both verifications are performed properly, credentials and documentation published by the Ministry of External Affairs (MEA) would be eligible for an apostille stamp.
Commercial Documents:
Before issuing the paperwork and certificates, the chamber of Commerce will conduct an initial check
Once verified, the apostille sticker will be granted by the Ministry of External Affairs (MEA).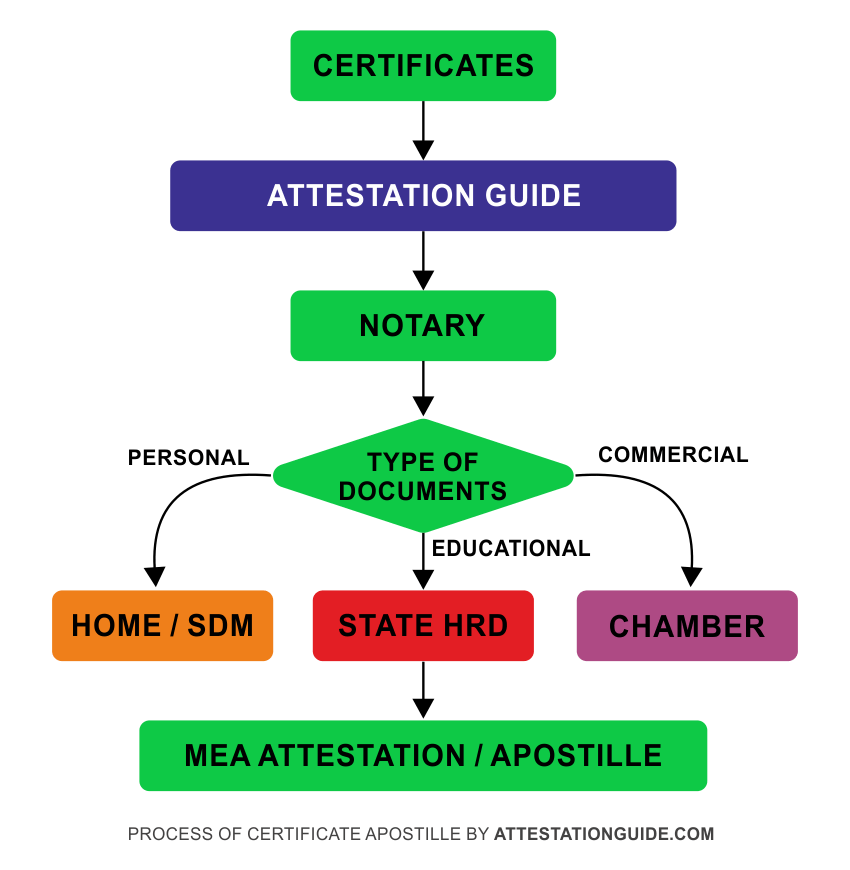 Time Taken To Complete The Process
The time required to apostille papers varies based on the kind of documents, as well as the number of the documents. Also, there could be some delays since each department will operate at its own speed. You must consult the Attestation Guide as if you do it yourself, you will take considerably longer than expected to complete the procedure on your own. If you hire an Attestation Guide, within 5 to 7 working days, the papers will be processed.

What Is The Cost Of Apostille?
The expense of the procedure is dependent on the type of papers that need to be apostilled as well as the number of documents that need to be apostilled. Since all of the authorities are located in different locations, travel fees will be covered if you handle the procedure on your own. With the Attestation Guide, customers won't have to consider the cost since we won't charge you any more than is necessary, and you'll obtain your papers and apostille stamp together in a timely manner. Also, there is no hidden cost we will charge from you.
How to get Apostille in Pune?
Please contact our team. The executive will work with you one-on-one to complete all of the required papers. Collecting the papers from your house and returning them with a receipt is the first step in the procedure. At no cost, the documents will be fetched up or delivered.
After the operation has begun, you will indeed be able to easily follow the development of your paperwork. We'll keep you informed on a regular schedule as well.once apostille is done we will send you scan by mail The last drop-off will be handled by Blue Dart Dispatch. The apostille service. provided by Attestation Guide in Pune is the fastest and most dependable, with consumers obtaining their papers in only 5 to 7 working days and also no extra expenses.
Why Choose an Attestation Guide?
Attestation Guide has been providing apostille services for many decades and has gained a reputation as one of the best. As a consequence of the assistance and expertise we've gotten over the years, we've developed this trust and belief. Let us show you how we can help you with the greatest utilities.
---
Frequently Asked Questions
---
Let our Legal Expert Contact you
Inquire here