Apostille Services In Delhi
An apostille is a form of a sticker, but it is more than just that; it has a lot of value once it is placed on your documents. Apostille Sticker is provided to the documents and certificates that are to be used in countries that come under the Hague convention. it is used, When you travel overseas for job, further education, or to obtain a family visa.
The Ministry Of External Affairs in India is the department who issue that stickers to the documents that are legally verified and are to be used in other countries that are a part of the Hague convention. The documents become valid in other countries only if they are apostilled.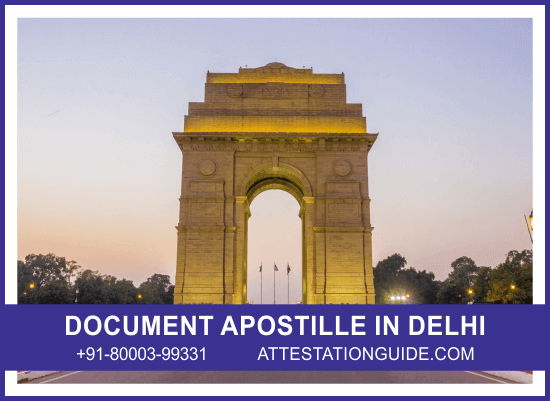 When And Why An Apostille Is Required?
If you have decided to travel to another country. Apostilled documents will help you in acquiring your Visa for countries that come under the Hague Convention and accept apostille documents. When you get your documents apostilled, they benefit in many ways like:
1. Degree Certificate
A Degree Certificate is an academic document that helps in getting an employment visa and student visas easily.
2. Birth Certificate
A Birth Certificate gives details concerning an individual's nationality and state of its origin
It is required in college admissions, school admissions, etc.
The certificate also helps in family visa and temporary work Visa.
3. Marriage Certificate
It is helpful for those trying to shift permanently.
Helps in achieving a dependent visa, spouse visa, resident visa, and family visa.
4. Police Clearance Certificate
A Police Criminal certificate displays any previous criminal history of any individual
Documents that are Required for Apostille
These documents are needed for the verification process
Copies of your passport
Photocopy of your Aadhar Card (Optional)
Process of Document Apostille
The safety of the documents and certificates is ensured by working in a systematic manner with an organised system of apostille attestation, where the team at Attestation Guide verifies all the processes being carried out. The process of Document Apostille Attestation services in Delhi varies. It is different for different documents.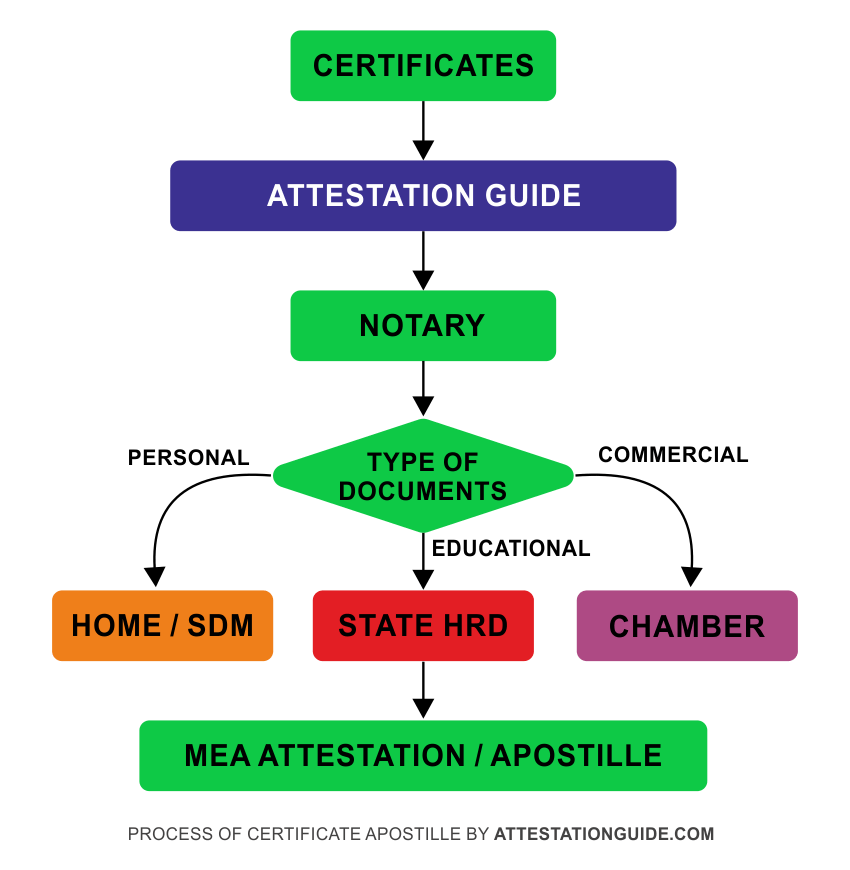 Educational Documents
Verification from University/ authority from where they were issued
State verification by Human resources Department
Apostille Sticker by MEA (Ministry of External Affairs)
Personal Documents
Verification from the local notary
State verification by Home Department or Sub Divisional Magistrate
At Last Apostille by the Ministry of External Affairs
Commercial Documents
Verification from the Chamber of Commerce
Apostille Striker by the Ministry of External Affairs.
Time Taken To Complete The Process
The time taken for the apostille process completely depends on the type of documents. This is because every document goes through a different process of verification that is done at the local, state, and national levels. Once the documents are approved on all the levels of verification, they become eligible for getting Apostille Stamp from the Ministry of External Affairs.
With us at the Attestation Guide, you won't have to worry about the time as we will deliver your apostilled documents in just 5 to 7 working days.
What Is The Cost Of Apostille?
The cost involved in the process differs from the type of documents .Travel costs are also included if you are doing everything by yourself as all the departments are located in different places.
To avoid all these unwanted troubles, it is suggested that you contact the Attestation Guide. We, as your apostille service provider, make sure you do not spend more than needed.

How To Start The Process?
If you have made up your mind to hire an Attestation Guide as your Apostille Service Provider, it is suggested that you contact our executive. Our executives will attend to you personally to get all the formalities done. And you are completely welcome to ask away the queries that you have, and our executives will be more than happy to hear you and help you out. Once all the formalities are completed, we can start the procedure. First, we collect the documents from your home, and then we provide you with a receipt for them.
We won't charge anything for the pickup and delivery of the documents. You will also be able to track the progress of the process easily after it begins. We will keep you informed regarding every procedure at every step.
Why Choose an Attestation Guide?
We can assure you that we are the best at what we do. This does not just come from experience in this industry but also comes from our objective to provide high-quality best apostille services to our customers. The highlights of our services are-
Free pick up and drop off of your documents: For our clients who believe in us and deserve free pick up and drop off service.
Brand Value: The attestation Guide and the professional staff working are all experienced. Attestation Guide has been providing apostille services for the past 8 years.
Customer service: We aim for a service that is of high quality and do our best to provide our clients with the same and provide our customers with 24/7 customer service.
Affordable cost: With a transparent process, our clients pay minimal costs.
Track the progress: The tracking system is developed so that clients can get live updates about the progress of their documents.
---
Frequently Asked Questions
---
Customers Review
Remember this service for lifetime. I was getting this chance and had to immediately give the attestation. They did not delay and saw that I get my chance. Anytime I am back, I will give them my good wishes through more clients.
Attestation Guide is good quality, good communication, and they are very knowledgeable person and provide us full information and full help to us.
They are very helpful and I am free to ask them any question any time. My documentation process was very smooth because of them. They are even helping me in Hungary after I reached here.
---
Let our Legal Expert Contact you
Inquire here