Police Clearance Certificate Apostille in India
What is Apostille Attestation?
The term "sticker" is well-known, and an apostille is a form of a sticker. This sticker, on the other hand, is not like any other sticker that is used for ordinary purposes. An Apostille Sticker is applied to documentation and certifications that will be used outside of India. Apostille Stickers are used to certify the validity of information included in a document or credential. An apostille can be obtained by any country that has signed the Hague Convention. In India, the MEA (Ministry of External Affairs) is in charge of issuing Attestation stickers on legal documents that would be used in other countries that have signed the Hague Convention. When documents and certificates are apostilled, they can be used lawfully in other countries.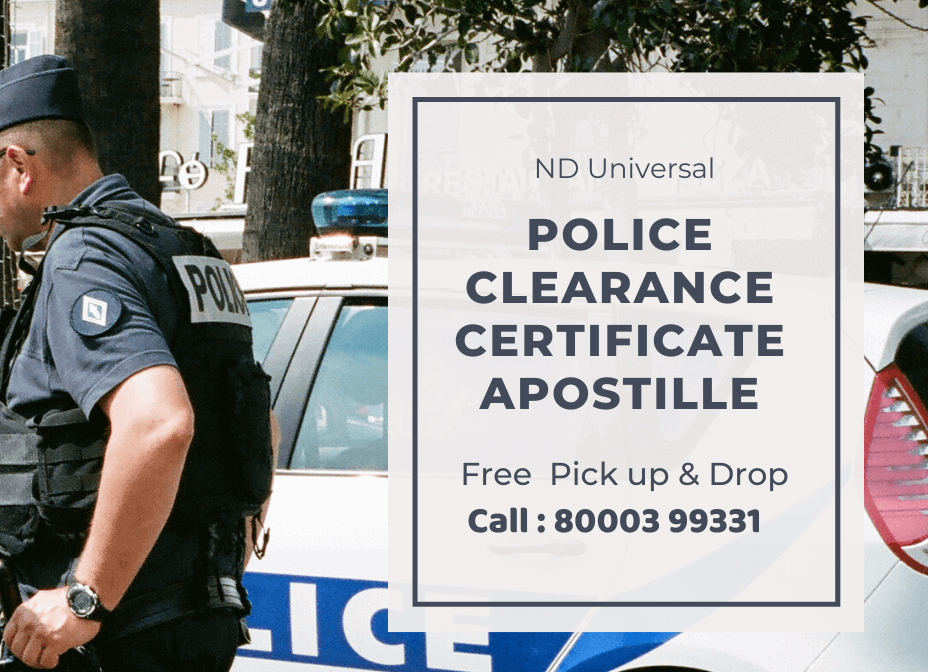 What is A Police Clearance certificate apostille?
In layman's terms, an Apostille is a sticker or stamp placed by the Ministry of External Affairs on a certificate that proves the document's legitimacy. Every person born in a country receives a birth certificate as confirmation of their birth on that particular day. Similarly, the police clearance certificate certifies that you have no criminal accusations against you. It is a certification that serves as proof that the individual has no criminal history and is authentic. The majority of nations require a PCC apostille. The papers will be used to verify your claims by the other nations. The foreign country recognizes the legitimacy of the documents you gave to them. This is validated by the apostille. It signifies that your documents will have to pass through various offices in order to receive an apostille. They will do a background check on you and authenticate the authenticity of your papers. The inclusion of an apostille on your document tells the other government that it is genuine.
Attestation is the process through which documents and certifications are verified for use in another country. An Apostille is a sort of attestation in which papers and credentials are given apostille stickers with unique numbers that help to authenticate the validity of the data on the papers when used in another country that has signed the Hague Convention. Many service providers provide Apostille Attestation, but clients must choose an apostille service provider that is not only legitimate but also government recognized in order to have a dependable apostille encounter. Not every resource provider will be efficient enough to complete the paperwork on time and without causing you any problems, which is why you should utilize Attestation Guide as your attestation service provider.
When Is The Need For A Police Clearance Certificate Apostille?
Apostille, also known as document apostille, is important to remember, especially if you want to go to another country. Apostilled documents will help people acquire visas for countries that are signatories to the Hague Convention and accept apostille evidence. Apostilled documents are also necessary for authentication; individuals will be unable to travel to another country unless their credentials are apostilled. Papers with an apostille sticker benefit in a number of ways, including:
Certificate of Police Clearance:
A Police Clearance Certificate is essential for demonstrating an individual's previous criminal history.
If a person has not engaged in any unlawful acts, their Police Clearance Certificate will be clean.
The apostille of this certificate will lead to a spotless clearance for Visa.
To be more clear, Apostille of a police clearance certificate is necessary for:
Working in a different nation
Advanced studies
Need for a foreign nation
Anyone who breaches this policy will face serious punishment. Even if the content will be utilized for profit in another nation, the papers must be apostilled.
What Does An Apostille Sticker Look Like?
A government department has provided this sticker. The sticker will look like this:
Apostille stickers are digitally made on a computer.
This sticker is around 9 centimeters in length.
The sticker will be labeled with a unique code.
This code will assist in confirming the legitimacy and reliability of the data contained in the article.
Apostille stickers are verified, identified, signed, and imprinted with the administration's stamp.
The organization that has earned this sticker is MEA ( Ministry of External Affairs )
Documents Required For Police Clearance Apostille
Apostille is applied to a variety of documents, and each one goes through a unique authentication process. The papers are divided into two categories: major and small. Major papers are the major documents to be used, whilst minor material is required as a complement to the authentication procedure.
Examples of Commercial Documents
Exportable documents
Other documents, such as a power of attorney
The list of secondary papers that must be presented as part of the verification procedure is as follows.
Passport photocopies are necessary.
Passport-size photographs
Receipt of the passport application
It is necessary to have a duplicate of your Aadhar Card.
It is necessary to bring a printout of your visa.
Time Is Taken To Complete The Process
The kind of paper determines the length of the apostille operation. This is because each document will go through a separate pre-verification procedure at the local, statewide, and national levels. The papers are eligible for an Apostille Stamp from the MEA if they have passed all stages of examination and have been approved by all authorized government entities ( Ministry of External Affairs ). The procedure is time-consuming, and if someone decides to do it alone, it might take a month or more because some offices hold the paperwork.
With Attestation Guide, you won't have to worry about timing since we will offer your apostille documents in 5 to 7 business days, which is why we are amongst the best apostille services.
What Is The Cost Of Apostille?
The cost of apostille solutions is defined by the kind of paperwork, the number of papers, and the specific authentication needs of the files. It should be mentioned that because every governmental agency is located in different parts of the state and country, traveling to many offices and waiting for hours to get the authentication done before asking apostille services in India may be rather overwhelming. Visiting numerous destinations will also necessitate more funds. The technique might become expensive and time-consuming. You will not have to worry about the cost with Attestation Guide since we will not charge you more than is necessary, and you will also receive your papers and their apostille sticker in a timely manner.
For further information, please contact Attestation Guide at any time.
Process Of Police Clearance Apostille
The process of document apostille services in India differs. It differs based on the type of documents used.
Step 1: Chamber of Commerce approval
Verification of all the documents will be done which were submitted by the person or the hired agency.
Step 2: MEA Apostille for Striker
Here in this step, the MEA (Ministry of External Affairs) validates all the documents submitted.
Step 3: Apostille stamp
Once everything is done correctly, the Ministry of External Affairs (MEA) will issue the police clearance stamp.
All the documents must be in a good and readable format, that is all the signs and seals should be visible to the officials. Marking other than the officials should not be seen in the documents that you are submitting to the officials.
How To Start The Process?
Please tell our elected official so that we may commence the apostille process with Attestation Guide, the leading apostille service provider. Our representative will take special care with any inquiries and other data, and all procedures will be followed. Once all of the requirements have been met, we will pick up the apostilled documentation from your home and issue you with a statement. We will begin the procedure as soon as the documentation comes. Your papers' development may be tracked online, and we will send you daily information.
To ensure the protection of your documents, we work in a very organized manner, using a system that validates each stage of the process. After the documents have been apostilled, we will email them to you. We shall not store your papers for any longer than is absolutely required. The period for attestation will be determined by the kind of documents, and we work in accordance with official norms, therefore all credentials will be subjected to all essential authentication by governmental agencies. Once the papers have been dispatched, you will be able to track them online. We offer free pick-up as well as drop-off services for any papers, so you won't have to worry about extra fees.
Why Choose Attestation Guide?
Despite the fact that there are several attestation service providers around the country, we will aid you more than anyone else. This is owing to the fact that we not only have experience in this industry, but we also endeavor to provide high-quality exceptional apostille services to our consumers. Attestation Guide understands the stress of dealing with apostille on one's own and hence offers a service that is not only economical but also rapid. We provide a wide range of services, including:
Free pick-up as well as drop-off services: For our customers who rely on us and expect us to provide free pick-up as well as drop-off services.
Brand Value: Attestation Guide and its specialized employees are all well-versed in their fields. Attestation Guide has been providing apostille services for the past eight years.
Clients receive high-quality service: We aim for high-quality service and do our best to provide it to our customers.
Affordability: Because we employ a simple strategy, our clients need to invest the least amount of money.
Tracking system: The tracking system was designed to provide clients with real-time information on the progress of their papers.
Customer support: Customer service is accessible 24 hours a day, seven days a week without fail.
---
Frequently Asked Questions
---
Customers Review
Attestation Guide is good quality, good communication, and they are very knowledgeable person and provide us full information and full help to us.
Remember this service for lifetime. I was getting this chance and had to immediately give the attestation. They did not delay and saw that I get my chance. Anytime I am back, I will give them my good wishes through more clients.
The attestation, verification and apostille were new words for me. They did all that I wanted. I liked their approach, sincerity and serious work. I will always be obliged that they helped me. This was done in a time of 7 days. Wonderful and good work
---
Let our Legal Expert Contact you
Inquire here