Quick Degree Certificate Attestation in India
Attestation can be defined as the process which is done for some important documents and certificates in order to prove their originality and authenticity in another country.
Attestation of documents is mandatory for getting legal permission and rights to use them in another country.
This is an important process if you wish to obtain a visa for professional reasons.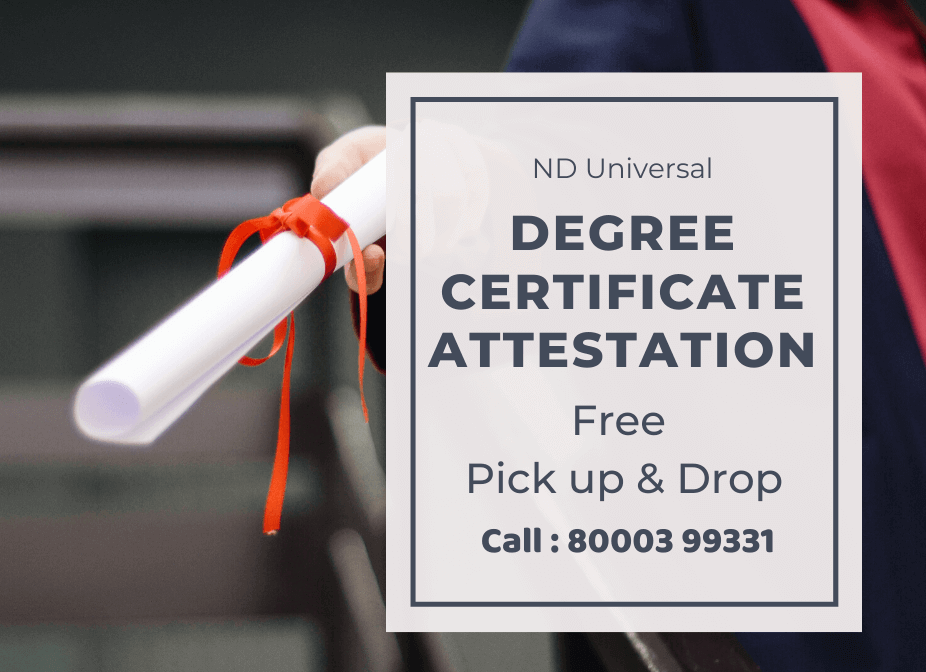 What Is Degree Certificate Attestation?
A Degree Certificate is a type of Educational document and is one of the most important documents that need to be legally authenticated.
A Degree Certificate usually contains information about an individual's educational background and the course which they studied and graduated with.
According to international law, everyone travelling abroad on a work visa must have their home country's attestation.
Having your degree certificate attested means that it is real and other countries can trust that you don't have a fake one.
What Is The Need For Degree Certificate Attestation?
You will be asked to present important documents and certificates for a variety of reasons when planning to visit another country for any personal and professional reasons. In such a situation, only legally attested documents and certificates are taken into consideration. The need for Degree Certificate Attestation arises in the following circumstances:
When you are seeking admission to some University in another country in order to pursue your higher education,
When you are planning to work abroad, or are applying for a job in some other country,
Attested Degree Certificate and other relevant documents help you acquire student or work visas easily.
Documents Required For Degree Certificate Attestation
When getting a Degree Certificate attested, you might be required to present some specific documents in order for the process of attestation.
Documents that are required for Degree Certificate attestation are:
Original Degree Certificate
Passport's photocopies
Aadhar Card's photocopies
What Is The Procedure?
Attestation of documents, especially educational documents is a very comprehensive process that happens at different levels.
The procedure which is followed for Degree Certificate attestation in India is conducted in the following steps:
Step 1: Verification at the Regional Level
At the regional level, the verification of the degree certificate is done by the University which has issued the certificate originally or by the local notary. The University should be government-authorized. Regional level verification is a necessary step for proceeding onto the state level verification.
Step 2: Verification at the State Level
A Degree Certificate is a type of educational document. At the state level, the verification of all academic and educational documents is done by the Human Resource Development (HRD) Department of the state. This state-level verification is a necessary step for proceeding for attestation by the Ministry of External Affairs (MEA).
Step 3: Attestation by the Ministry of External Affairs
The Ministry of External Affairs in India is the department at the central government level which manages all matters with regard to foreign affairs. It in turn gives the documents and certificates attestation once they are verified at the regional and state levels. Attestation by the Ministry of External Affairs is in the form of a stamp or signature on the particular document or certificate which legalizes its originality and authenticity. Once this attestation is complete, the document or certificate becomes eligible for embassy attestation.
Step 4: Attestation by Concerned Embassy
Once the document or the certificate has been verified and attested by different departments of the government, it becomes eligible for attestation by the concerned embassy. Embassy Attestation is the final step that legalizes the use of the document in the particular country.
How Much Time Is Required For The Completion Of The Process?
The attestation process is a multiple-step procedure that may also differ as per the type of documents or certificates which require attestation. It is also dependent upon the state of origin of the document, as well as the country for which the document needs to be attested. It is difficult to predict the exact time that the entire process will take because different departments carry out the procedure at their own pace and at times they hold the documents for some additional verification
If you wish to avoid any delays in the process and want your documents and certificates to be quickly attested, you can contact Attestation Guide for the best attestation services in India. Attestation Guide is recognized by the government as an Attestation Services Provider. We have more than eight years of experience and guarantee you quick attestation services for your degree certificates in just 7 to 8 working days.
How Much Will Attestation Cost?
The cost of the attestation process depends on the type of document, the origin of the document, and the country for which it needs to be attested.
If you decide to get the document attested by yourself, you will have to bear additional costs of traveling because different governmental departments are located in different parts of the country. In order to avoid such expenses, you can hire the attestation services offered by Attestation Guide. Attestation Guide gets your document attested for you in just a few days without you having to travel physically.
All procedures are legal and in accordance with the government's guidelines. By hiring Attestation Guide, you will experience an efficient and smooth attestation process for your documents and certificates.
How to Start The Process?
For starting the process of attestation, you can contact our Executive at Attestation Guide. The Executive is there to answer all your doubts and queries and will provide you with all the necessary information regarding the whole process.
The Executive also makes sure that all formalities are completed, post which, we pick up the documents and certificates from your location. You will receive a receipt for the same. Once the documents reach us, we quickly begin the process of attestation. We have also developed a system for our clients to track the entire attestation process online and we make sure to update you regularly about the same.
We follow a systematic process and in order to make sure that the documents and certificates are handled safely, we verify each step and process as conducted. Once the attestation is done, we dispatch your documents and give you a tracking ID for the same. We offer free pick-up and drop-off services. The process of attestation is dependent upon the type of document or certificate. Attestation Guide conducts the entire procedure as per the guidelines stated by the government. Thus, your documents and certificates get attested by authorized government departments.
Why Choose Attestation Guide?
Attestation of certificates and documents is a multi-layered process and you need to pay attention to a lot of details and keep a lot of things in mind. Thus, it can cause a lot of confusion. You will need to make sure that each document and certificate is attested as per the specific needs of the document or certificate to ensure accurate and safe attestation of the document or certificate. Along with all this, attestation can be a time-consuming and costly process. All of this can be overwhelming and stressful.
Thus, to get your documents attested quickly and in a legally correct manner, it is recommended that you avail the services of a government-authorized attestation service provider. Several of them are available in the market but Attestation Guide offers the best and the most efficient services out of all. We at Attestation Guide aim to give you premium quality end-to-end services which begin from picking up the documents from your doorstep and dropping them back to you after the process is complete, along with guaranteed quick and accurate attestation of your documents.
Our Highlights
More than 8 years of experience
Top-quality customer care service
Quick and efficient services
Customer care line operating 24*7
Affordable price range
Highly transparent attestation process
Assurance of safety of documents
Free Pick up and Drop off services
The customer care helpline is open 24*7 and you can solve all your doubts and queries whenever you want.
---
Customers Review
The attestation, verification and apostille were new words for me. They did all that I wanted. I liked their approach, sincerity and serious work. I will always be obliged that they helped me. This was done in a time of 7 days. Wonderful and good work
They are very helpful and I am free to ask them any question any time. My documentation process was very smooth because of them. They are even helping me in Hungary after I reached here.
Remember this service for lifetime. I was getting this chance and had to immediately give the attestation. They did not delay and saw that I get my chance. Anytime I am back, I will give them my good wishes through more clients.
---
Let our Legal Expert Contact you
Inquire here