Apostille Services In Chennai
When a person travels to another country for work, a student visa, or a family visa, apostille services in Chennai are required for tamil nadu issued documents.
Attestation Guide is a government-authorised firm that can get Apostille stamps for documents and certificates in a smooth and legal manner. We offer quality apostille services in Chennai and have a systematic and standard system for getting the apostille stamp. We ensure that the documents and certificates get handled in a safe manner and go through the right verification steps as per their requirements.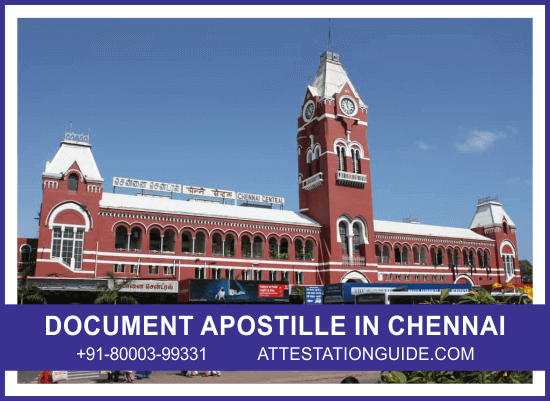 What Is An Apostille?
The documents and certificates that need to be used outside of India are given Apostille stickers.
If your documents are apostille-signed, Embassy will know that your certificate is Genuine.
The Meaning of Apostille is to authenticate the information that is placed to the back side of a document or certificate.
The Indian government's Ministry of External Affairs (MEA) is in charge of putting apostille stickers on documents that will be used in another country.
Why and when you need an Apostille attestation?
If you have made plans for travelling to a foreign country, then Apostille Attestation for documents certificates is essential. If you wish to use any certificate abroad for different kinds of benefits, you will require apostille for these documents. The benefits of getting different types of documents and certificates apostille are as follows:
Degree Certificate
A lawfully apostilled Degree Certificate helps you to pursue higher studies from abroad as it is an important requirement when you are seeking admission in a college or university in a country that is a signatory to the Hague Convention.
A legally apostilled Degree Certificate is essential for securing a work visa or a student visa.
Birth Certificate
Apostille attestation of birth certificate is a must as it is required when seeking admission in any school, college.
It helps in the legal verification of an individual's nationality and is essential for acquiring different types of visas.
Marriage Certificate
It is an essential requirement for couples who are planning to relocate temporarily or permanently to any such country.
An apostilled marriage certificate helps in acquiring different types of visas which include spouse visa, dependent visa, resident visa, and family visa.
Police Clearance Certificate
Police Clearance Certificate shows the criminal history or the criminal record of an individual.
If there has been no involvement in illegal activities in the past, the individual receives a clean Police Clearance Certificate.
Single Status Certificate
A Single Status Certificate is a proof that the individual to whom the certificate belongs is unmarried.
Documents Required For Apostille Attestation Process
Given below is a list of secondary documents that are mandatorily required for the process of verification
Original Certificate which you need an apostille
Passport's photocopy
Aadhar Card's photocopy
Process Of Apostille Attestation
The process of acquiring an apostille stamp for different documents and certificates is as follows: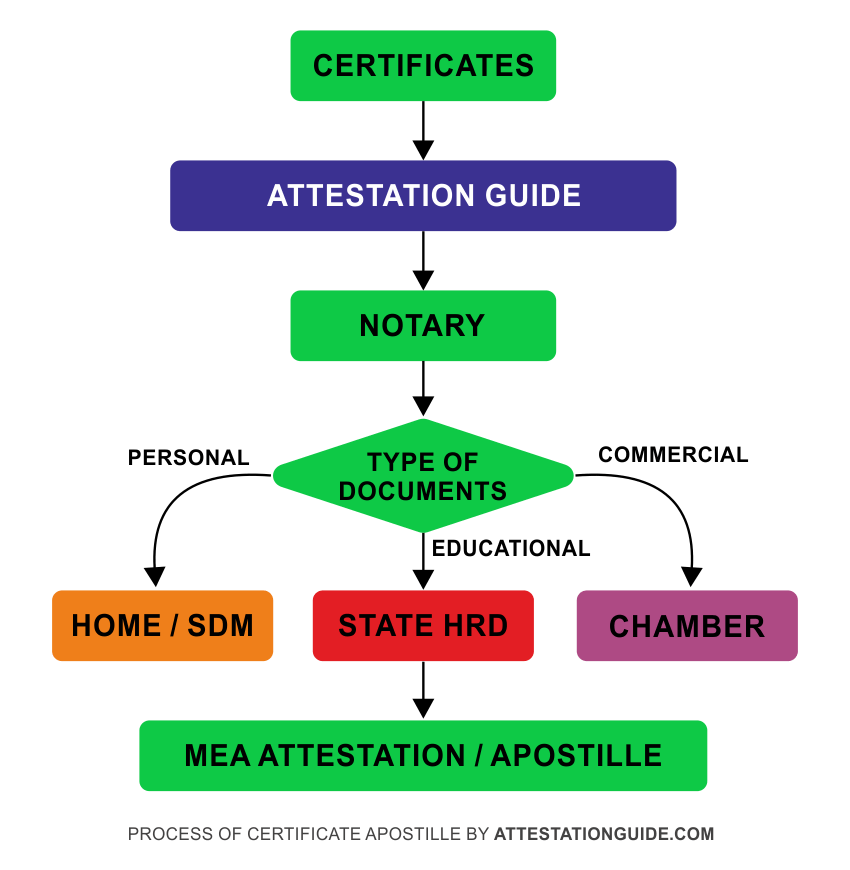 Educational Document
Verification from the University or Institution from where the document or the certificate was originally issued.
Verification at the state level by Human Resource Development (HRD) Department
Apostille attestation in the form of Apostille stamp or sticker by the Ministry of External Affairs (MEA).
Personal Documents
Verification from the Local Notary from where the document or certificate was issued originally.
Verification at the state level by the Home Department or the Sub-Divisional Magistrate.
3Apostille attestation by the Ministry of External Affairs (MEA).
Commercial Documents
The Chamber of Commerce verifies the document in the first stage.
Apostille sticker is then provided by the Ministry of External Affairs (MEA).
Time Taken to Complete the Process
The type of the document or the certificate which has to be apostilled determines the time that is taken to complete the process. The reason for this is that each document goes through a specific pre-verification process at the local, state, and national levels. This is because different departments tend to hold back the documents and certificates for some specific verification processes.
If you choose Attestation Guide as your Apostille Service Provider, you will not have to worry about the time that it takes to complete the process because Attestation Guide gets your documents and certificates apostilled for you in just 5 to 7 working days.
Cost of Apostille
The cost of a document apostille depends on a few factors. One of the reasons is that different government departments responsible for verification are located all over the country in different locations, and thus if you want to get it done by yourself, you will have to travel to various places. This can be very overwhelming and heavy on the pocket. Thus, the process of apostille attestation can be very time-consuming as well as expensive.
apostille Cost per document is Rs 4100; if you have multiple documents, the price per document can be discounted.
If state attestation is required, the cost will be determined more that depending on the university.

How To Start The Process?
To start the process of apostille attestation, you can begin by contacting the Executives at Attestation Guide.
Our manager will arrange for documents to be picked up from your home.
Once the documents reach the head office of the Attestation Guide, the process is initiated.
The entire process of apostille attestation and the documents and certificates can be tracked online.
After the documents and certificates receive their apostille stamp, the Attestation Guide dispatches them through Blue Dart, and they are delivered right at your doorstep.
Why Choose an Attestation Guide?
Free of Cost Pick-up and Drop-off Services: The customers who place their trust in us are offered pick-up and drop-off services of documents and certificates, which are completely free of cost.
Brand Value: Attestation Guide has a team of professionals, and the staff members have good experience working in the industry. Attestation Guide has been working tirelessly to provide quality apostille services for more than 8 years.
High-quality Customer Services: Our aim at the Attestation Guide is to provide high-quality services to our customers.
Affordable Price Range: We have a very affordable price range for the services we offer to the clients and a highly transparent system of working.
Tracking Facilities: Attestation Guide has a well-developed tracking system that allows the customers to keep track of their documents and certificates and get live updates about the same.
24*7 Customer Support: Our executives and team is there to help you out at any time of the day with 24*7customer support services.
---
Let our Legal Expert Contact you
Inquire here