Best Apostille Services for Degree Certificate
What is Apostille Attestation?
Apostille is a type of sticker. However, unlike any other stickers that you might be familiar with, the Apostille Sticker is typically given to the documents and certificates which you need to use abroad. Apostille Attestation is a way to legitimize the information stated in a particular document or certificate.
The Ministry of External Affairs (MEA) in India, acts as the department which is responsible for furnishing Apostille Attestation stickers/certificates to the documents or certificates that are legal and are to be used in some other countries which are a part of the Hague Convention. Getting documents and certificates apostille enables them to be lawfully used in other countries. Thus, an Apostille is an important certificate that is a way of authenticating the signature of the public officer on your document or certificate to be used in some other country.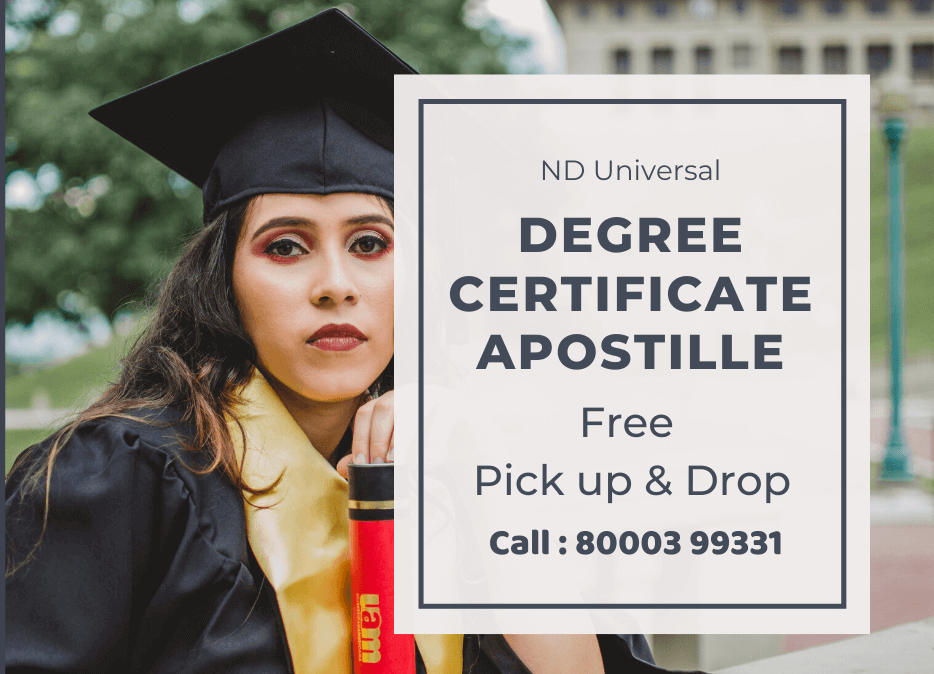 Apostilled documents and certificates enable individuals to secure various kinds of visas for a country that is a signatory to the Hague Convention and accepts the apostilled documents. Documents and certificates which receive apostille are also used for verification purposes. Without apostilled documents, you will not be allowed to enter such a country, and strict measures are taken against those who do not abide by this rule.
What is Degree Certificate Apostille?
Attestation can be defined as the process through which various documents and certificates are given validity for usage in another country. An Apostille is a different kind of attestation wherein the documents and certificates get assigned their apostille certificates which have unique digits that can help in confirming the legitimacy of whatever information is stated in the documents or certificates whenever they are used in another country that is a signatory to the Hague Convention.
Degree Certificate Apostille is verifying and attesting the degree certificates of individuals which can then be used in another country for various purposes such as pursuing higher education abroad in the concerned country or working there. There are various apostille service providers all over the market in India to help you with apostille attestation. However, you should always look for service providers who can offer apostille services in a proper manner that is authentic and authorized by the government. Attestation Guide is a firm that has authorization from the government and offers you the best apostille services in India.
When is the Need for Degree Certificate Apostille?
A Degree Certificate is a certificate that is issued to students after students complete their graduation, post-graduation, or any other degree in some specific course. The degree certificates are directly issued to the students from the colleges or universities they have pursued the particular degree from. A Degree Certificate Apostille might be needed by you in the following cases:
When you are planning to study abroad or seeking admission to some foreign University to pursue your higher education in a country that is a part of the Hague Convention.
When you are planning to get a job or are required to join some job and work in another country and this country is a part of the Hague Convention.
When you are planning to settle down abroad in a country that is a signatory to the Hague Convention.
Apostille attested academic documents or degree certificates help you to easily acquire a student visa or employment/work visa.
Lawful apostille attestation of documents and certificates is required if you wish to use these particular documents or certificates abroad for your own benefit or advantage in a country coming under the Hague Convention.
What Does An Apostille Sticker Look Like?
An apostille sticker is issued by an authorized government department. This sticker has the following appearance:
Apostille stickers are electronically generated stickers that are generated through a computer.
It measures approximately 9 centimeters in length.
It has a particular code. This code helps in proving the legitimacy and authority of whatever is mentioned in a certificate or document.
Apostille stickers are usually registered, numbered, dated, and impressed by the concerned government's seal.
The Ministry of External Affairs (MEA) is the body that grants the apostille stickers.
Documents Required for Degree Certificate Apostille
Apostille attestation is required for various documents and certificates and each of these goes through different verification processes. Documents that need apostille attestation can typically be divided into two specific categories, major and minor. Major documents and certificates are those which will be used abroad. On the other hand, minor documents and certificates are those which are required for the various kinds of verification processes.
Example of Educational Documents
Degree/ diploma certificates
HSC certificate
SSLC certificate and other
A Degree Certificate is a type of Educational document. Documents required for Degree Certificate apostille include the original certificate and other supporting documents like Aadhar Card and the Passport photocopies. These supporting documents are needed to conduct the background check for degree authentication and verification. A list of secondary documents typically required for verification is given below.
Passport-size photographs
Passport's photocopies
Passport's application receipt
Aadhar Card's photocopy
Visa's photocopy
Time Taken To Complete The Process
Time taken to complete the apostille attestation process depends on the type of certificates or documents you want the apostille attestation done for. Each document goes through a different process at the pre-verification stage which is conducted at the local level, the state level, and the national level. After verification is completed at all these different levels and they are approved by authorized bodies of the government, they become eligible for receiving the Apostille Stamp from the Ministry of External Affairs (MEA).
Often this entire process takes a long time. If you choose to get this done by yourself it could take anywhere close to a month or more because at times certain departments hold on to the documents for various kinds of verifications and other procedures. Thus, if you want to get the apostille attestation of your degree certificate done quicker than it usually takes, you can hire Attestation Guide as your apostille service provider. With Attestation Guide, you can be assured that your apostilled documents and certificates reach you in 5 to 7 working days.
What is the Cost of Apostille?
The cost of the entire process of getting apostille for your certificates and documents differs depending on the type of certificates or documents which require an apostille, the number of documents, as well as whether there is any special or specific need or requirement for a particular document for the verification process to complete. Also, different government bodies are located in different states and parts of the country, and travelling to all of these places for verification before applying for apostille, and standing in long lines for long hours, can not just be overwhelming but also heavy on your pockets. This costs you extra money and the entire process can be highly expensive.
On the other hand, apostille services offered by Attestation Guide are affordable and available at reasonable prices. You will get the apostille stickers for your documents and certificates in a quick hassle-free manner for which we charge you no extra amount of money than needed for the process. In order to avail one of the best apostille services in India, contact Attestation Guide.
Process of Degree Certificate Apostille
Degree Certificate falls under the category of Educational documents. In India, apostille services differ for each type of document on the basis of its types. The process of Degree certificate apostille involves the following steps:
Verification from the authority from where the certificate was originally issued such as the University.
Then comes verification at the state level which is done by the Human Development Department.
Once the above is complete, an apostille sticker is issued by the Ministry of External Affairs (MEA).
How To Start The Process?
In order to start the process of apostille attestation with Attestation Guide, you must contact our Executive. Our Executive will personally attend to all your queries and give you information regarding the entire process. The Executives also complete any additional formalities required. Once the formalities are complete, the documents and certificates which need to be apostilled will be picked up from your home. We will provide you with a receipt as well. As soon as the documents reach us, the process is initiated.
Attestation Guide enables you to track the process of apostille attestation of your documents online and you will receive regular updates from us. The process followed by us is well-organized and we ensure the safety of all the documents and certificates you send us through a system where we also verify every step and process which is done. After the documents and certificates are apostilled, we dispatch them to you and you can track them online.
The process of apostille attestation depends on the type of documents and certificates. Attestation Guide works according to the government's guidelines. Thus, all your documents and certificates get verified by authorized government departments and bodies. Free pick-up and drop-off services for the documents are also offered by us.
Why Choose Attestation Guide?
Attestation Guide is a government authorized attestation service provider and our aim is to serve you in the best possible manner. This is because, along with several years of experience in the country, we also ensure that we provide you top-quality apostille services, which are the best out of all others. We at Attestation Guide understand the difficulty experienced by our customers while individually getting apostille attestation done, and hence, we offer affordable and fast services to our customers. You should choose Attestation Guide because we offer many great services like:
Cost-free pick up and drop off services: For the clients who place their trust in us, we offer pick up and drop off services free of cost.
Brand Value: At Attestation Guide, we have a team of professionals working to serve you and all have good experience in the industry. Attestation Guide has been catering to the customers' needs for apostille services for the past 8 years.
Premium-quality Customer Service: At Attestation Guide, our aim is to provide high-end, premium-quality services to our customers.
Affordable Prices: You are required to pay minimal costs for availing our services and our process is transparent.
Tracking Facilities: We offer our clients tracking facilities wherein a system developed by us enables the clients to track the entire process and get regular updates about the progress of apostille attestation process.
24*7 Customer Service: We are available to provide services to our customers at any point of time in the entire day.
---
Frequently Asked Questions
---
Customers Review
They are very helpful and I am free to ask them any question any time. My documentation process was very smooth because of them. They are even helping me in Hungary after I reached here.
Attestation Guide is good quality, good communication, and they are very knowledgeable person and provide us full information and full help to us.
The attestation, verification and apostille were new words for me. They did all that I wanted. I liked their approach, sincerity and serious work. I will always be obliged that they helped me. This was done in a time of 7 days. Wonderful and good work
---
Let our Legal Expert Contact you
Inquire here