Oman Embassy Attestation for Personal & Commercial Documents
Oman is a sophisticated and well-established Gulf nation. It has opened its doors for expats and allows many visitors each year. People can come into the country for business or personal reasons. This has given rise to many job opportunities in the country of Oman. Documentation is an important process even though it is a tedious and complex process. Attestation services are given importance to keep a check and keep fake documents away.
There is strict consideration and checking done for documents. It is compulsory for expats to get documents attested for personal and business reasons when coming to Oman. Attestation services and attestation service providers provide this facility. Document attestation is a very important process and they verify the authenticity of the individual. The Oman Embassy attestation is given importance to keep fake and unauthorized documents away.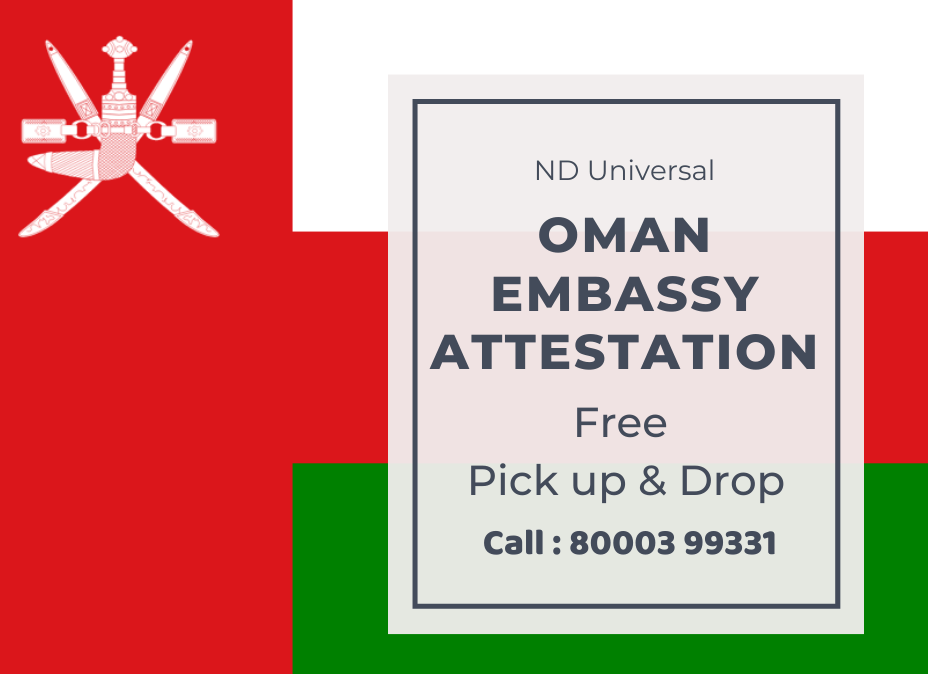 What Is Oman Embassy Attestation?
Applying to Oman means there is a requirement to submit documents for verification. It is required to submit authentic documents and get them verified. It is compulsory to attest your documents in your country with the respective embassy. You can visit a consulate and avail of attestation services in case of the absence of the respective embassy.
Oman Embassy Attestation is the attestation way of verifying the authenticity of the document. It ensures and keeps fake documents away. The process requires the submission of the original documents and also the photocopies to be submitted to the verifying authorized employees and avail of the authorized sign or stamp on the forms appropriately. This process declares the authenticity of the document by affixing a sign of personnel verifying. This is done so documents are accurate and justified as authentic. These services are provided by Oman Attestation Embassy.
When Is The Need For Embassy Attestation?
If any visitor requires to visit Oman, the gulf country due to business or personal reasons, to visit this foreign country you require to apply for a visa. The verification of the documents is done by employees of the embassy or consulate. Post verification and authentication of documents, the documents are issued by officials. Attestation of documents is an essential process. For example, if you are considering a family visa attestation of the marriage certificate is important. Attestation services are very important to prove the individual before they enter the country of Oman this is done to keep fake documents away.
1. Degree certificate
This comes below the category of an academic or professional document. It is a proof that an individual has completed a particular course.
A degree certificate is a very crucial requirement to have a study or work visa.
While applying for a job or while seeking admission to a certain school or university, submitting a copy of attested degree certificate is mandatory.
You will be required to get your degree certificate attested from the embassy if you wish to pursue higher education or work in a foreign country.
2. Birth Certificate
This falls under the category of a personal document. Important information pertaining to your birth is contained in your birth certificates such as your date of birth, day and time of birth, and place of birth.
Birth certificate is essential to prove your nationality.
Your official name in the home country is proved with the help of your birth certificate.
A birth certificate is essentially required for migration purposes and for change of name.
3. Marriage Certificate
This also falls under the category of a personal document possessed by married individuals. Your marriage certificate is an essential document as it proves your marital status and relationship with your spouce.
It is a proof on your current relationship status.
Provided your marriage certificate has received attestation by the embassy only then will your marriage be considered valid and authentic in Oman.
An attested marriage certificate is an essential requirement for obtaining family visas, spouse visas, resident visas, and also dependent visas.
4. Police Clearance Certificate (PCC)
A Police Clearance Certificate is highly important as it proves clear criminal record. PCC gives clear information about a person's criminal record as well as about particular unlawful activities which the person might have committed.
PCC, while applying for visa helps to prove a person's innocent nature and shows clear criminal record which helps an individual acquire a Visa.
PCC attested by the embassy is a clean chit that increases the likelihood of acceptance of visa applications.
A PCC works as a proof for you, proving you have no criminal record, is attested by the embassy will speed up the process of your acquiring a visa faster.
5. Export Documents
This falls under the category of commercial documents which are required to be attested in the case of business personnel.
If you are planning to set up your business abroad or wish to expand your business beyond the concerned jurisdiction export documents will be needed to go through embassy attestation.
In order to acquire legal exportation rights, attestation of Export Documents by the embassy is a mandatory process.
The need to attest documents arises when we need to avail a valid visa one has to attest all educational or personal certificates, professional or academic issued from India by the Indian embassy or consulate in Oman for further attestation by the Ministry Of Foreign Affairs of Oman Government before grant of Oman Visa. Attestation ensures the credibility of every document and holds a significant role when we visit foreign countries. Oman, while visiting this country is no different than other countries and also requires attestation prior to visiting. This is when attestation of documents is required. It proves the accuracy and authenticity and is muchly required when visiting Oman for personal and business needs.
Documents Required For Attestation
Different types of documents require attestation by the authorities, a stamp is required to prove the authenticity and to verify these documents. You need to take an appointment and submit all your documents with photocopies for attestation. The authorities further verify these documents like educational and marriage certificates and give the required stamp and sign. Below is the list of documents required for attestation and validity.
Original Documents requiring attestation by the embassy:
Birth Certificate
Marriage Certificate
Degree Certificate
Export Documents
Police Clearance Certificate
Death Certificate
Supporting Documents needed while attestation:
Passport's photocopy
Aadhar Card's photocopy
Receipt of Passport Application
Passport-sized photograph
All document certification is handled and verified authentically. All types of documents are attested and this verifies the authenticity and accuracy of all the documents. These are the various documents required for the attestation process. They are correctly examined by experts and receive the stamp and sign required. These documents hold high importance while settling in Oman.
Time Taken To Complete The Process
For the processing of these documents, it takes more than 15 to 20 days usually. A maximum of 30 days can be taken when you do it yourself. The authorities verify the authenticity of the documents and give the required stamp and sign to validate them. The attestation is a lengthy process and gets completed in a few days. Ranging from a minimum of 15 days to a maximum of 2-3 months approximately.
Attestation services are offered in the Oman Embassy for all types of educational and marital documents giving the applicant the right to enjoy legal prerogatives. If you hire Attestation Guide, this will take less time. For convenient Oman Embassy Attestation, you can hire Attestation Guide and our professional staff will get the embassy attestation in just 3-8 working days.
What Is The Cost Of Attestation?
In case you have decided to do the attestation process by yourself it will cost you more than anticipated. This happens mainly because every document has different requirements and have to go through different departmental verification process. To finish the process you will require to travel to every corner of the country to visit each department. Hence you can opt to hire Attestation Guide where you can avail of our attestation services and get your document verification process completed within a week.
There will also be no need for you to be physically present at each department or anywhere else for the tracking process as you can track the process from your home itself. Also, free drop and pick services are offered and clients' documents are handled correctly. So hire Attestation Guide and enjoy high-quality services at affordable prices.
Process Of Embassy Attestation
The process of attestation is a must. The process of attestation is done at the Oman Embassy in India. These documents are essential to smoothly settle in Oman for a job. The process of handling documents may vary from company to company. The process involves:
Step 1: Regional level attestation
The local authority is the one from where documents were issued originally. Documents are verified by a local authority like University or notary.
Step 2: State level verification
Here, personal, professional, and commercial documents get verified in their respective departments.
Personal documents are verified by Home Department or Sub Division Magistrate.
Professional and academic documents to be verified by the HRD (human resources department).
Commercial documents get verified only from the Chamber Of Commerce.
Step 3: Central level verification
Here in this step, the documents and certificates will be eligible for authentication by MEA (Ministry Of External Affairs).
Step 4: Embassy's attestation
Embassy attestation is done by the concerned countries embassy.
This is the process the attestation of documents goes through. Indeed it is a long and tedious process, which can be easily handled by Attestation Guide. With the assistance of these authorities, all your documents will get attested correctly. With these high-profile attestation services, you can easily move into a gulf country and settle in a new job smoothly.
How To Start The Process Of Attestation?
Attestation is a tedious process. It can be time-consuming as verifying the authenticity of the documents takes a considerable amount of time. Opting for a process to save time, effort and money is a wise option. For reaching out, you can call us on our official number or mail us and our executive will visit you. Here, we will take care of the process. Also, we do provide pick-up and drop services of documents for our clients. We do not charge anything for this service. The motto of Attestation Guide is to provide a platform for people where they can feel safe while giving documents for attestation.
Attesting personal and educational documents when settling in a Gulf country like Oman is essential. If you are settling abroad, authenticated documents are necessary for you and these documents must be legalized from embassies/consulates in India.
Why choose Attestation Guide?
Attestation Guide is a professional consulting firm on expediting Apostille and attestation of business and personal documents from India. Attestation Guide has been delivering quality services for years now. We also issue Certificate attestation as well as Apostille on certificates from the Foreign ministry Of India. Certifications issued by these departments are widely accepted by all foreign nations. With Attestation Guide, you can expect a safe drop and pick facility also.
We deliver reliable and authentic services. You can further read about us by tapping onto our website and reading our testimonials. Our previous clientele will give you more insights into the quality of work we provide. We attest all documents and ensure you settle smoothly in the country of your choice. We ensure the documents meet international standards and specified requirements and are treated in the right manner. We are a leading company providing attestation of certificate and apostille attestation services.
Our Highlights:
High-speed services
8+ years of experience
Affordable Prices
Low time-consuming process
Free Pick up and Drop off services
Superior-quality customer care service offered
24*7 functional Customer Care Line
Transparency in the Attestation Process
Assurance of safety of documents
---
Frequently Asked Questions
---
Customers Review
Remember this service for lifetime. I was getting this chance and had to immediately give the attestation. They did not delay and saw that I get my chance. Anytime I am back, I will give them my good wishes through more clients.
The attestation, verification and apostille were new words for me. They did all that I wanted. I liked their approach, sincerity and serious work. I will always be obliged that they helped me. This was done in a time of 7 days. Wonderful and good work
They are very helpful and I am free to ask them any question any time. My documentation process was very smooth because of them. They are even helping me in Hungary after I reached here.
---
Let our Legal Expert Contact you
Inquire here