Apostille Services In Kolkata
When you travel overseas for employment, study, or family visa, an apostille is necessary.According to the Hague Convention's law, it is a mandatory requirement.
For these services, Attestation Guide has an office in Kolkata.
The procedure of getting an apostille on your own could take a while.
Attestation Guide is the greatest certificate apostille service provider since it is not just government-affiliated but also assists clients in navigating the multi-layered procedure of an apostille. you won't have to worry about the content or the procedure being followed because everything is done in a methodical manner.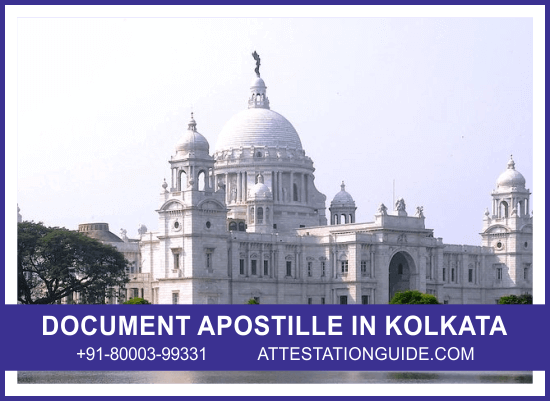 What Is An Apostille?
Apostille is a type of stamp issued by the Ministry of External Affairs (MEA)
Apostille sticker is attached to the back of the certificate with the name of the applicant certificate so that the indivisual country can verify that this document is genuine.
What Is The Need For Apostille?
Especially if you plan to travel abroad. Apostilled documents will assist individuals in obtaining a visa for a country that is a member of the Hague Convention.
Apostilled documents are also required for verification; people will not be allowed to Travel another nation unless the documents are apostilled.
Various kinds of benefits for apostille of Documents
Degree certificate
These educational documents aid in the acquisition of a work visa and a student visa.
This is essential for college admission as well as for employment.
Birth certificate
This certificate should be apostilled since it is required for school applications, university admissions
The Apostille would be required to legally confirm the nationality.
Marriage certificate
It is beneficial for those couples trying to shift permanently.
This certificate will assist in receiving the residency permit, Family visa, household visa, or dependent Visa .
Police Clearance certificate
A Police Clearance Certification is important for Prove that individual's don't have previous criminal background.
The Apostille of this certificate is really vital for all categories Visa.
Documents That Are Required For Apostille
1 original certificate is needed for apostille,
Note:- apostille can be done on x rox copy additionally however, for that origional certificate additionally required to show the authorities
2 before process the papers we need for any indian supporting papers like passport copy , aadhar card or Voting card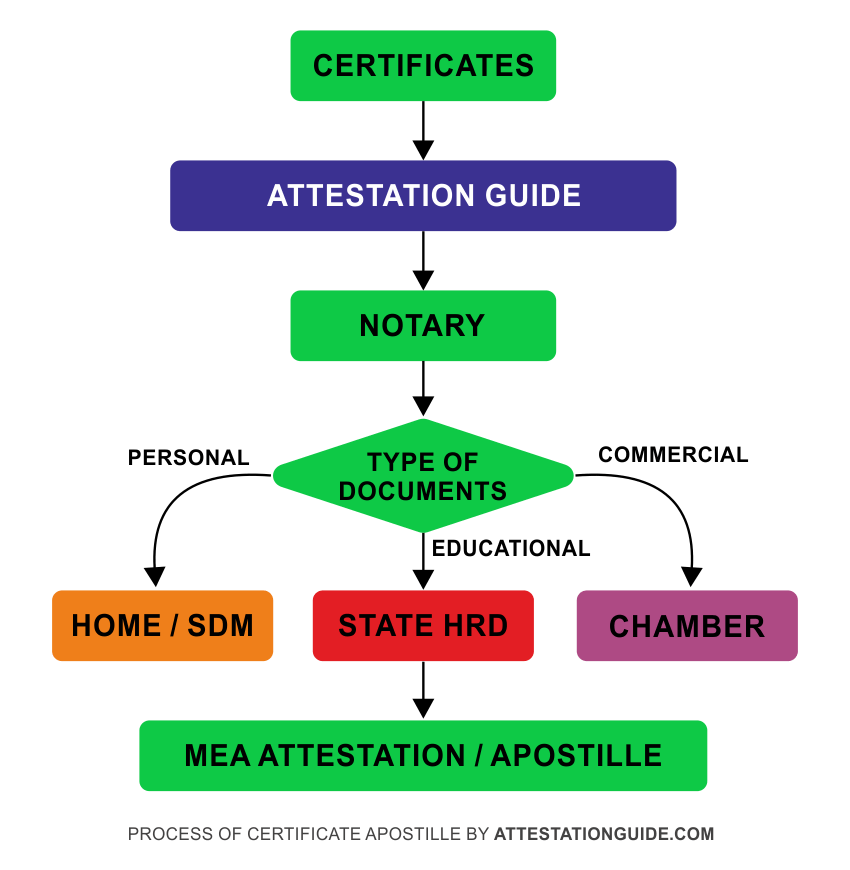 Process of Document Apostille
For Educational Documents
Validation from the university/authority that issued them
State confirmation by the Department of Human Development
MEA (Patiala House Court)
Personal Documents
Verification by a notary public in the area
Verification by the Home Department or a Sub Divisional Magistrate in the state
The MEA's Ministry of External Affairs )
Commercial Documents
Chamber of Commerce certification
Apostille through the MEA ( Ministry of External Affairs ).
Time Taken To Complete The Process
The time required for the apostille procedure may vary depending on the kind of papers,The papers will be processed and returned to you within 7 to 8 working days.
if you have any type of urgency then we will process it in urgent mode.

How To Start The Process?
Contact or mail our executive to begin the Attestation Procedure with Attestation Guide, Our official will give personalised attention to all questions and other details,
Once all of the formalities are completed, we will pick up the documents from your residence and provide you with a receipt.
Your work papers progress can be monitored online, and we will provide you with regular updates. To ensure the security of your records, we collaborate in a highly organised manner, adhering to a system that verifies each step of the process.
Why Choose an Attestation Guide?
Despite the fact that there are numerous attestation service providers across the area, we will offer you better than anybody else. This is due to the fact that we not only have knowledge of the business, but we also strive to provide our customers with high-quality best apostille offerings.
Brand Value: Attestation Guide and its professionals working are all recognized. For the past eight years,
High-end customer care: We strive for high-quality service and do our finest to offer it to our clients.
Tracking system: The monitoring system was created so that clients could receive real-time updates on the status of their documents.
24*7 customer service: Customer service is available 24 hours a day, seven days a week.
---
Frequently Asked Questions
---
Customers Review
The attestation, verification and apostille were new words for me. They did all that I wanted. I liked their approach, sincerity and serious work. I will always be obliged that they helped me. This was done in a time of 7 days. Wonderful and good work
They are very helpful and I am free to ask them any question any time. My documentation process was very smooth because of them. They are even helping me in Hungary after I reached here.
Remember this service for lifetime. I was getting this chance and had to immediately give the attestation. They did not delay and saw that I get my chance. Anytime I am back, I will give them my good wishes through more clients.
---
Let our Legal Expert Contact you
Inquire here