Egypt Embassy Attestation Services in India
Your Guide To Egypt Embassy Attestation
Egypt has one of the most ancient civilizations and one of the richest cultural heritages, along with lovely sand beaches, and deserts famous for Safari desert trips, which are reasons why it is one of the most famous tourist destinations. People also like to visit therapeutic tourism. Many visit Egypt for trading and business purposes as the place is popular for its textiles and food processing industries. Individuals relocate to Egypt for various other reasons such as higher education and traditional lifestyles. No matter what the reason, to visit Egypt you will be required to get certain documents attested from the concerned departments of the Embassy.
Embassy attestation in Egypt is very important because if any document or certificate is not attested or verified by the embassy, it will hold no value for being used anywhere in Egypt.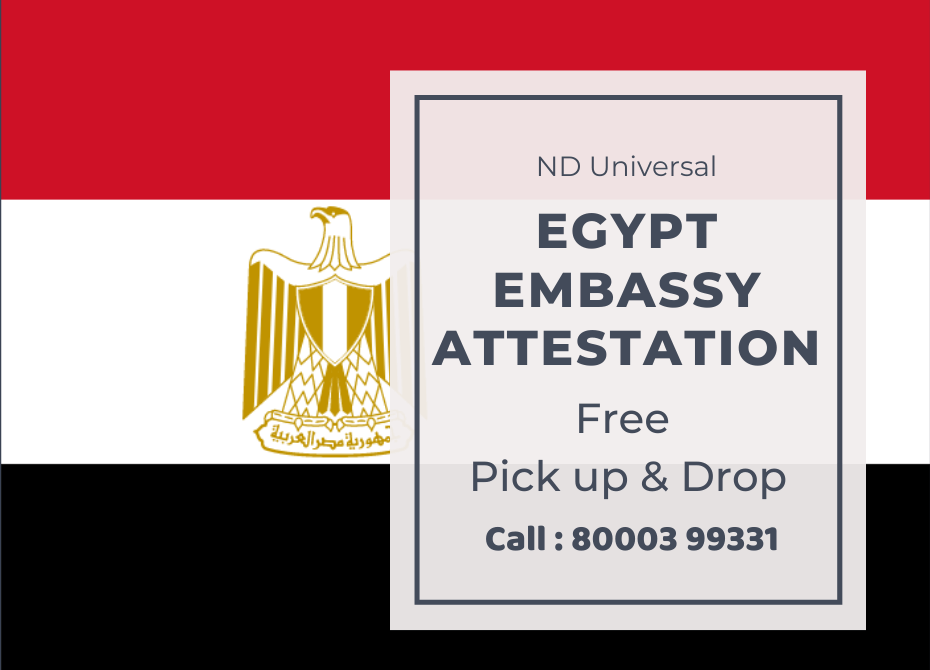 Attestation done in the Egypt Embassy is a much-systematized process that involves various verification steps conducted by authorized departments of the government. There are several embassy attestation services being provided in order to help you in getting Egypt Embassy Attestation done. Embassy attestation of documents is also required for getting visas or else your application gets rejected.
What is The Egypt Embassy Attestation?
Egypt Embassy Attestation is a mandatory process that needs to be followed for certificates and documents that you will be utilizing in Egypt for any purposes. To legitimize the information stated in the certificates and documents, validation by process of embassy attestation is required. Government-authorized bodies and departments carry out the process of first-hand verification. Being a citizen of some other country, if you plan to visit Egypt, you will be required to present various important documents to the authorities for Egypt Embassy Attestation. Egypt embassy attestation is a necessary process for documents or certificates which are required to be submitted for applications with regard to visa requests. Visa requests are likely to be declined if required documents and certificates are not approved or verified by the Egypt embassy attestation process. Embassy attestation of documents and certificates is a way to ensure a comfortable and safe stay for yourself in Egypt and also you can legally use your documents and certificates. Government-approved service providers are the ones you should approach for the best embassy attestation services and Attestation Guide is one such Attestation Service Provider which has been approved by the Egyptian Government.
When is The Need For Embassy Attestation?
The need for embassy attestation arises when there are certain certificates or documents which have to be used in a country other than the country you are a citizen of. Visa applications typically require attestation of documents by the embassy. The attested documents can be used by you in the concerned country for some important legal rights and benefits.
1. Degree Certificates
This is a type of academic or professional document. It acts as proof for you that you have completed a particular course from a particular university.
It is crucially important for obtaining study or work visas.
This attested degree certificate needs to be mandatorily presented when seeking admission to university or for getting a job.
Thus, if you want to pursue your higher education abroad or want to work in some other country, you will have to get your degree certificate attested from the embassy.
2. Birth Certificate
This is a type of personal document. This certificate contains important information with regard to your birth such as the date, time, day, and place of birth which includes your origin.
This document is proof of your nationality.
This document also is a way to prove your official name in your native country.
Birth certificates are also an important requirement if you want to migrate or for the purpose of changing your name.
3. Marriage Certificate
This is also a type of personal document which married individuals possess. It is proof of your marital status and relationship with your spouse.
It is a way to clear your current relationship status.
A marriage certificate that has been attested by the embassy is a way to prove the validity and authenticity of your marriage in Egypt.
Marriage certificates which are attested by the embassy are helpful in acquiring resident visas, family visas, spouse visas, as well as dependent visas.
4. Police Clearance Certificate (PCC)
Police Clearance Certificate is an important document that helps to state your clear criminal record. PCC clearly states and informs about an individual's criminal record and also about certain unlawful activities that the individual has done.
While applying for visas, PCC helps in proving the innocent nature of individuals.
Embassy attested PCC acts as a clean chit for you which increases the chances of acceptance for your visa application.
Getting a PCC attested by the embassy when you have no past criminal record, will help you get a visa quicker than otherwise.
5. Export Documents
This is a type of commercial document which the business person needs to get attested.
These documents will require embassy attestation if you wish to establish your business abroad or want to expand it in the concerned country.
Attestation by the embassy of Export Documents will be helpful for business personnel in acquiring legal exportation rights.
Many firms provide embassy attestation services in India for Egypt Embassy Attestation procedures. The number of firms providing these services makes it a tough choice for clients with regard to whose services they should avail. Choosing the right embassy attestation service provider is very essential because the attestation process requires important and original documents of people which need to be handled by authorized professionals. You can contact Attestation Guide and avail their one of the best embassy attestation services in India whenever you plan to visit Egypt.
Documents Required For Embassy Attestation
Various original and secondary documents are required for embassy attestation. Following are the documents and certificates you might need for embassy attestation:
Original Documents requiring attestation by the embassy:
Marriage Certificate
Degree Certificate
Birth Certificate
Export Documents
Police Clearance Certificate
Death Certificate
Supporting Documents needed while attestation:
Aadhar Card's photocopy
Passport's photocopy
Receipt of Passport Application
Passport-sized photograph
Bear in mind that the secondary documents might vary as per the need for documents for attestation. Submission of these documents should be done for the completion of the verification process which is done before beginning embassy attestation.
Time Taken To Complete The Process
The whole process of Embassy Attestation when done individually by you will be completed in the time frame which ranges from some weeks to months. Often this much time is needed because in certain cases, documents are held by different departments in order to make them eligible for other verifications. There are various other reasons which cause a delay in the entire process.
If you do not wish to experience this delay, you must go in for hiring Attestation Guide as your embassy attestation service provider. Attestation Guide guarantees that all documents and certificates will be attested in a short time span of five to seven working days. Being a government authorized attestation service provider firm, we do not have backlogs and the systematic procedure followed by us gets documents attested successfully. Attestation Guide is your go-to choice if you want stress-free and hassle-free attestation of your certificates and documents.
What Is The Cost Of Attestation?
If you choose to get the attestation process done all by yourself, it will prove to be a costly process for you. The reason the process becomes costly is that every document and certificate's requirement differs and these go through different departments for verification. In order to complete the whole process, you will be required to visit various departments which are located all throughout the country. This adds to your travelling costs.
In contrast, if you hire Attestation Guide, we can guarantee the attestation of your documents and certificates in almost a week and at affordable and modest prices. You can easily track the attestation of your documents from the comfort of your home, without having to be physically present in any of the departments or elsewhere. Our services also include free pick up and drop off of our client's documents. Hiring Attestation Guide thus ensures that you are hiring top-quality customer services at the best and most affordable prices.
Process of Embassy Attestation
The complete Embassy Attestation process is as follows:
Step 1: Verification at Regional Level
In this step, documents and certificates are verified by certain local authorities such as notaries or universities (when academic documents are involved). The local authority is typically from where the documents got issued originally.
Step 2: Verification at State Level
At this particular level, documents and certificates receive authentication from different kinds of departments on the basis of their type.
Personal Documents require verification by the Sub Divisional Magistrate or Home Department.
Academic and Professional Documents are verified by the Human Resource Development (HRD) Department.
Commercial Documents require verification from the Chamber of Commerce.
Step 3: Verification at the Central Level
At this level, documents and certificates receive authentication from the Ministry of External Affairs (MEA), which is the department at the central level and engages in affairs such as attesting documents and making them eligible to be used internationally.
Step 4: Embassy Attestation
The final step of Embassy Attestation is carried out by the embassy of the concerned nation.
How To Start The Process?
In order to start the process of Embassy Attestation, you can contact the executive of Attestation Guide. Our Executives attend to the clients personally, explaining the process and other related information which the clients need to know. After imparting all formal information and completing the general formalities, your documents and certificates will be picked up by us from your doorstep. Once the documents reach us, we will begin the attestation process and will keep you updated on a regular basis via online sources and other sources.
Once the process is complete, all documents along with embassy attestation, are sent to you via Blue Dart Dispatch. You can easily track the returning process of your dispatched documents. We offer free-of-cost pick-up and drop-off services to our clients.
Why Choose Attestation Guide?
At Attestation Guide, we understand the rising demand for attested documents. Attestation Guide also is concerned about the safety of different documents. If you hire our services, you can be assured that our team of professionals will take care of the documents well and return you fully attested documents.
We follow a highly transparent process and do not charge anything extra. Choosing us will ensure that the process of attestation is complete in very few days without you being required to pay anything additional for the quick services offered by us. Our aim at Attestation Guide is to provide premium quality customer service to the clients and all your doubts and queries will be addressed whenever you want.
Our Highlights
8+ years of experience
Superior-quality customer care service offered
High-speed services
24*7 functional Customer Care Line
Affordable Prices
Transparency in the Attestation Process
Low time-consuming process
Assurance of safety of documents
Free Pick up and Drop off services
Best Embassy Attestation Service in India
---
Frequently Asked Questions
---
Customers Review
The attestation, verification and apostille were new words for me. They did all that I wanted. I liked their approach, sincerity and serious work. I will always be obliged that they helped me. This was done in a time of 7 days. Wonderful and good work
Remember this service for lifetime. I was getting this chance and had to immediately give the attestation. They did not delay and saw that I get my chance. Anytime I am back, I will give them my good wishes through more clients.
They are very helpful and I am free to ask them any question any time. My documentation process was very smooth because of them. They are even helping me in Hungary after I reached here.
---
Let our Legal Expert Contact you
Inquire here