Power of Attorney Attestation Services In India
Attestation is a process that confirms the legitimacy of needed documents in a foreign country. In order to be lawfully utilized in a foreign country, documentation must be authenticated.
People who own immovable property believe they must appoint someone as their power of attorney in India so that their property affairs can be handled in India. Businessmen and industrialists who live in other nations must deal with day-to-day activities and challenges. They entrust their responsibilities to a third party. A third party might be a business partner, a family member, or a co-worker. The third party performs the necessary functions on their behalf. A power of attorney is a legal instrument that explains the agreement between two parties. It grants legal authority to the designated person to handle the concerns.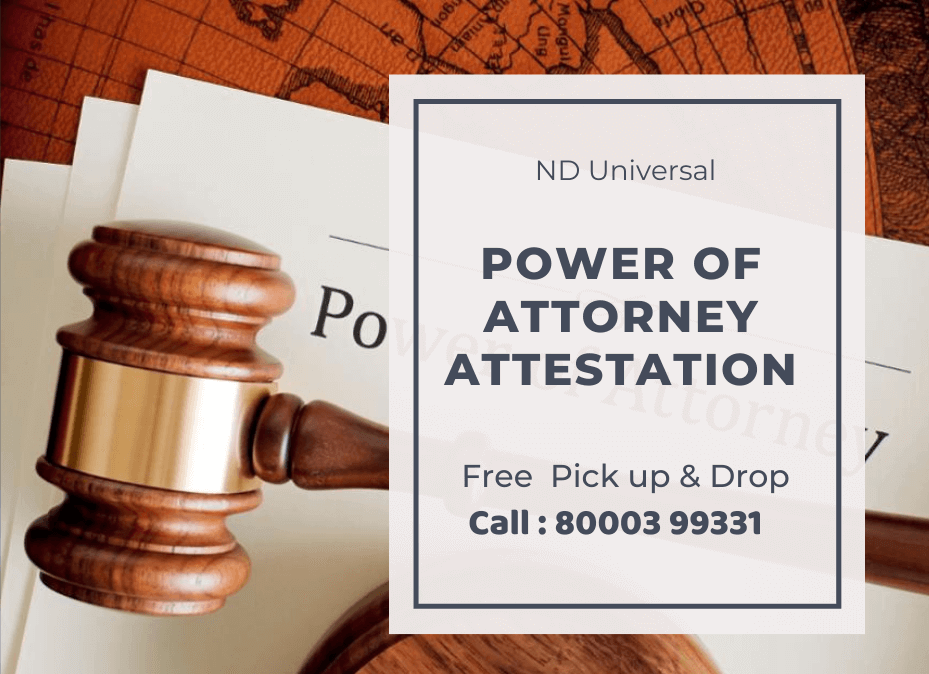 Why Is the Attestation of a Power of Attorney Certificate Required?
It is important to remember that the country you desire to visit, whether for personal or commercial purposes, will require your documents to check the authenticity of the data. The Power of Attorney (POA) allows you to appoint an organization or a person to handle your affairs in the event that you are unable to do so.
In the following cases, a Power of Attorney Certificate Attestation may be required:
Why and When Apostille Attestation Is Required?
When you are unable to relocate abroad, it is quite helpful because you can authorized someone to work on your behalf.
The home government implements the attestation method when giving permission to enter a foreign nation.
Currently staying abroad and unable to attend the task.
Make financial choices, make healthcare choices, suggest a Guardian.
Senior citizens or the elderly with health issues, illness and bed rest, or any other reason for not being able to show in person.
Documents That Are Required For Attestation
The key papers that will be involved are as follows:
Several photocopies of your passport
Power of Attorney Certificate with Local Notary

Always remember that attestation is only done on original documents. Also, a list of secondary documents typically instructed for validation is given below.

Passport-size photographs
Passport's photocopies
What Is The Procedure?
Attesting documents is never a one-step process. It is unquestionably sensitive, and precision should be considered in the calculation because even minor inaccuracies might derail the entire operation. To avoid any painful conditions during the operation, it is better to seek the aid of professionals for treatment. The method for attestation of a Power of Attorney certificate is divided into five fundamental steps:
Step 1: Notary Attestation

The first step in the handling process is certification, which is conducted by a notary. It is presented to you by a notary public in your area. It takes the form of a seal or a sign. The notary is a must-have for any legislation that involves the verification process. In India.

Step 2: Attestation by the State Home Department

Attestation of personal papers and certificates is handled by the State Home Department and only designated authorities can testify to papers. They only have the authority to certify, and this is the second stage in the legalization of personal documents.

Step 3: Attestation by SDM

The Sub-Divisional Magistrate for the Home Department is used in extraordinary instances, as well as for HRD.

Step 4: MEA Stamp & Embassy Attestation

MEA is the most recent level of certification from the home government. It is used to seal the paper. It is the primary department in charge of the country's foreign affairs. The documentation is approved here, and for the majority of countries, this is the final certification stage after the Ministry of External Affairs.
How Much Time Is Required For The Completion Of The Process?
it attestation is a major legalization process that involves obtaining an attestation stamp from many authorities. It must be issued by the nation that issued the certificate. The document to be verified determines the length of the multi-step attestation method. It is also dependent on the location of origin and the municipality in which it must be validated.
Because each division operates at its own pace, it is difficult to forecast how long it will take. The period can range from 8 to 10 days; however, for unexpected reasons, this time restriction may be extended by a few weeks to months. Contact Attestation Guide for attestation services to avoid such issues. With over eight years of experience, we are government-approved attestation service providers. We guarantee that your Power of Attorney certificate will be certified in 7 days or less.
How Much Will Attestation Cost?
The cost of attestation varies according to the source of the paperwork and the country for which it is being attested. Other fees, such as transportation charges from one site to another, must be paid while having the document attested by oneself. Because the divisions are so far apart, it is impossible to minimize travel costs.
One may avoid such unwelcome fees by using Attestation Guide, which provides free pick-up and drop-off services, as well as a simple service approach with no hidden costs.
How To Start The Process?
Please contact our Elected Official to commence the Power of Attorney Certificate attestation procedure with Attestation Guide. Our Representative will answer all of your inquiries professionally and offer you pertinent information regarding the entire procedure. Representatives also complete any further documentation that may be required. When all of the criteria have been met, the papers and certifications that need to be authenticated will be collected from your home. We will also provide you with a receipt.
The procedure starts the moment the documents arrive at our office.
You may track the process of your documents online with Attestation Guide, and we will send you regular updates. Attestation Guide complies with all federal regulations. As a result, all of your credentials and certifications are verified by authorized government agencies and bodies. We also offer free pick-up and drop-off services for documents.
Why Choose Attestation Guide?
When it comes to getting a document verified, there is a lot to think about. Because it is a multi-layered operation, the complete method may be quite complex. Every piece of paperwork needs careful thought during the operation to ensure its safety and that each stage is performed appropriately. Attestation is a time-consuming operation that no one can avoid, but it is always recommended to get assistance from a service provider to minimize any additional problems. There are other firms that provide attestation services; however, not all of them are as successful as Attestation Guide.
Our techniques are founded on the government's legal procedures. If you choose us, you will have a quick and efficient attestation procedure. All you need to do is focus your attention and efforts on us by sending the required papers to our office. If you are unable to ship us your documents, our authorized staff will pick them up from your house, and we will provide you with a tracking number when we get your documents, allowing you to follow their progress. In addition, regular email updates will be delivered. From picking up your papers to delivering them with certain attestation, Attestation Guide will give you high-quality, end-to-end service.
Some of the highlights of our amenities are as follows:
We examine your documents with great attention.
We pick up and deliver all of your required documents for free.
The entire procedure would take approximately 7-8 days to finish.
You may monitor the status of the attestation on our website.
You would not have to leave the comfort of your own home for any reason related to the attestation of your documents.
We are a government-registered company, which means we are trustworthy, and your documents will be secure and protected in our hands.
We will not keep your papers any longer than required since we value your privacy.
Everything will be completed at a low cost.
---
Frequently Asked Questions
---
Customers Review
Remember this service for lifetime. I was getting this chance and had to immediately give the attestation. They did not delay and saw that I get my chance. Anytime I am back, I will give them my good wishes through more clients.
They are very helpful and I am free to ask them any question any time. My documentation process was very smooth because of them. They are even helping me in Hungary after I reached here.
Attestation Guide is good quality, good communication, and they are very knowledgeable person and provide us full information and full help to us.
---
Let our Legal Expert Contact you
Inquire here